Fenway Park Tour
June 20, 2005
---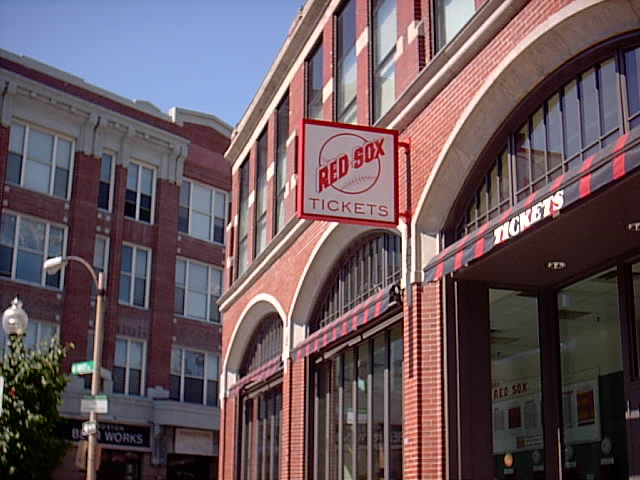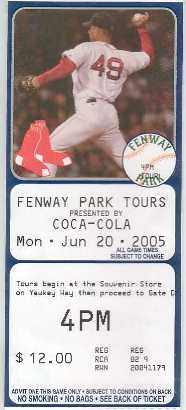 I purchased a stadium tour ticket here at the Red Sox Ticket Office, located at the stadium corner of Yawkey Way and Brookline Ave. I had sufficient time to partake in a refreshment beverage before the 4 Pm tour began. I walked to McDonalds near the Kenmore "T" Station at 636 Beacon Street and consumed a large Diet Coke and a Chocolate Sundae.
---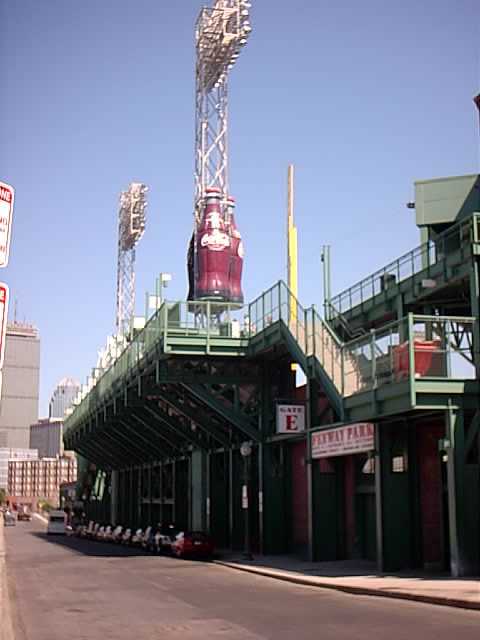 While walking to McDonalds I took a few pictures from the Brookline Ave sidewalk. This is the left field Monster Seat and Fisk Pole area view of Landdowne St - Ted Williams Way.
Looking at the left field foul line pole from outside of the stadium. It has been renamed the "Fisk Pole". In Game 7 of the 1975 World Series against the Cincinnati Reds, in the bottom of the 12th inning, Carlton Fisk came to bat facing Reds pitcher Pat Darcy. Fisk hit a pitch over the wall and off the pole, winning the game. However the Sox lost Game 7 and the curse continued. It is said that Fenway has book ends at its park, the left field, "Fisk Pole" and right field, "Pesky Pole".
---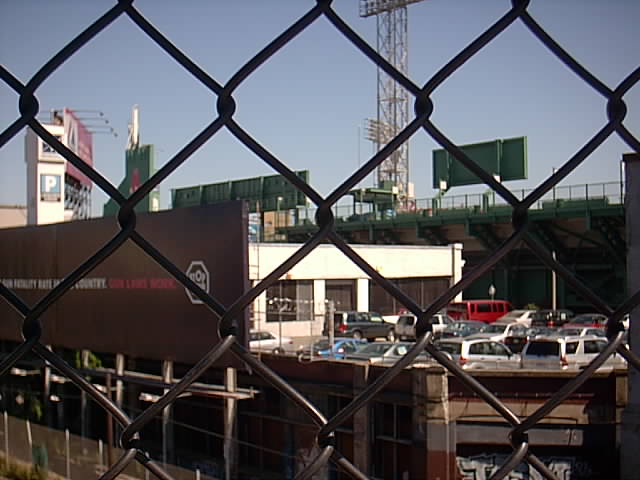 Outside the left field fence Landdowne St - Ted Williams Way
---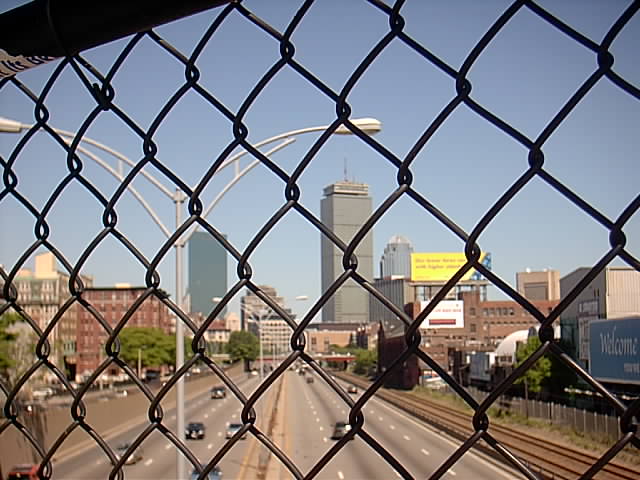 Brookline Avenue sidewalk overpass view, looking east over the Massachusetts's Turnpike or Interstate 90. A good view of the John Hancock Building (center left) and the Prudential Building (center right)
---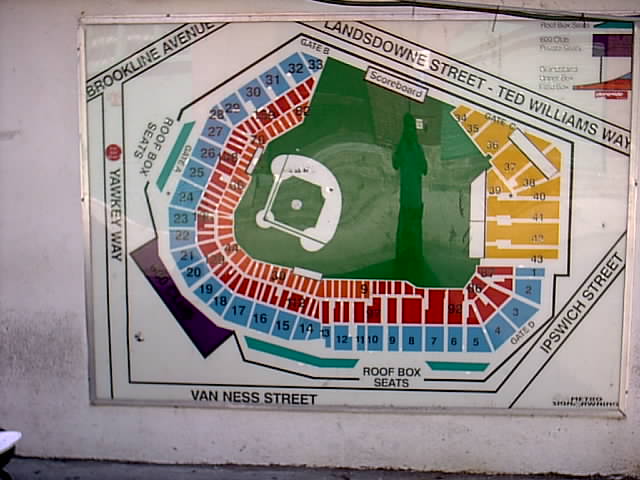 This picture was taken from the souvenir store outside wall
---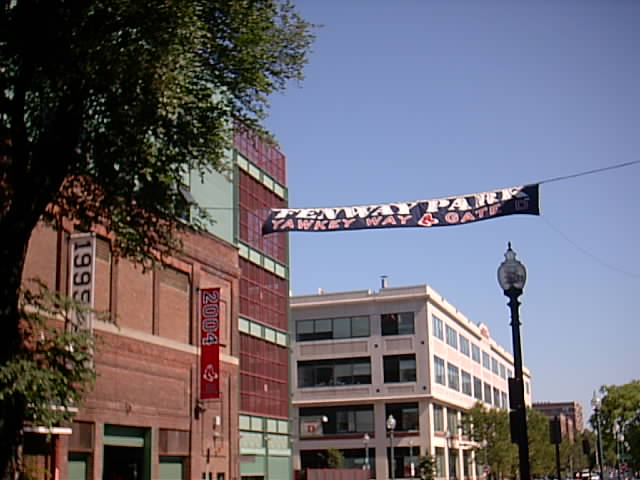 This picture was taken from the Souvenir Shop. Note the championship banners hanging on the outside stadium facade of Gate "A". The tour began by entering the stadium at Gate "A".
This was the home ballpark for many famous players like Cy Young, Babe Ruth, Jimmy Collins, Duffy Lewis, Tris Speaker, Harry Hooper, Joe Cronin, Bobby Doerr, Johnny Pesky, Ted Williams, Jimmie Foxx, Carlton Fisk, Jim Rice and Carl Yastrzemski.
---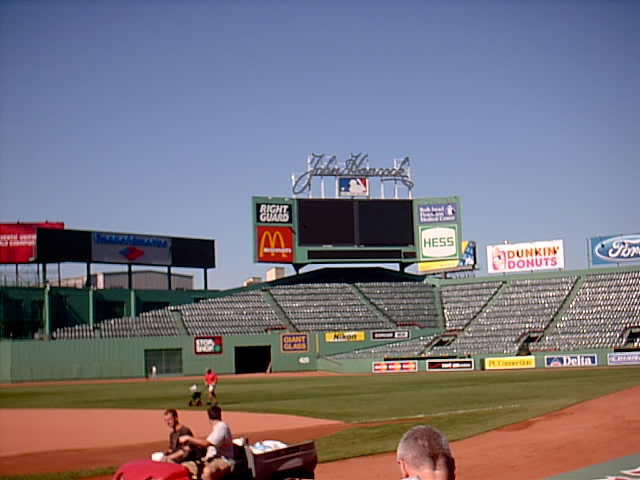 The Grounds Crew working on the field
---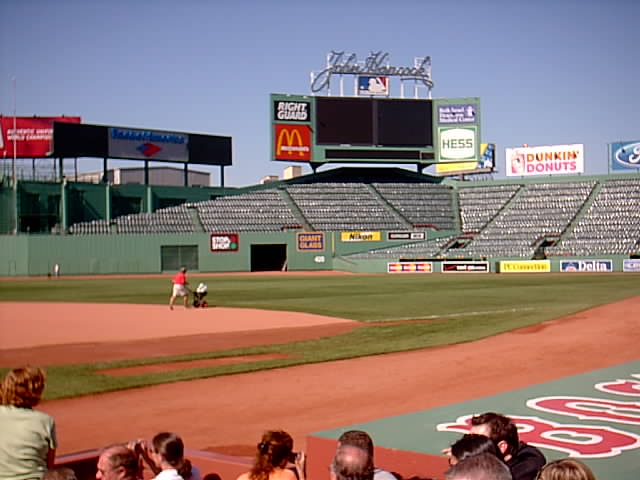 ---
Back To Boston 17 Back To Boston Itinerary Menu Next To Boston 19