---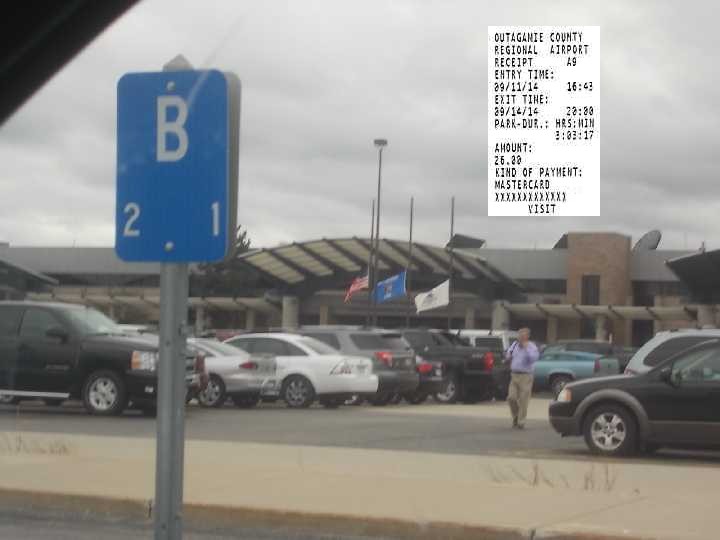 Arrival at the Outagamie County Regional Airport, ATW, Appleton, Wisconsin, Thursday September 11, 2014.
I took this picture so I could remember where I had parked the car. Nice short walk to the Terminal Building.
Cost $26, a lot cheaper and closer than MSN-Madison, but not as cheap or close as RFD-Rockford, which is free.
---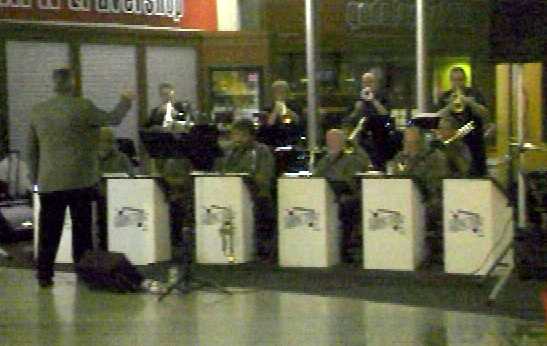 Swing Time Band's Website
I extracted this still image from my video clip of the "Swing Time Band" entertaining the passengers in the ATW Terminal.
They were hired to greet an arriving Honor Flight with 95 Veterans returning from Washington D.C., which was scheduled to
arrive in about a hour after our Vegas departure. They played around 4 tunes for us. They were all really quite polished
musicians playing good arrangements, with excellent intonation, rhythmic accuracy, steady tempo, crisp articulation and dynamics.
They had an excellent solid bass player and a guy who performed a good vocal on Sinatra's "Summer Wind".
---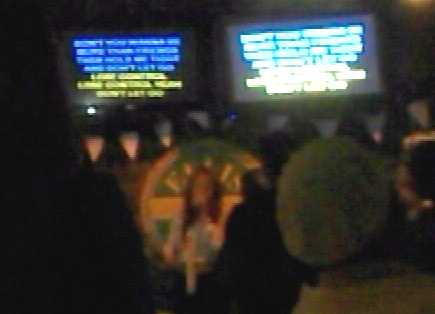 Another extracted still from a video clip taken in very poor lighting and crowded conditions.
Ellis Island Casino "Acclaimed of Fame" is they are always voted "Best Karaoke in Vegas".
They do pack the room with many awesome singers. The room remains packed the entire night from 9 P.M. to 3 A.M.
Most of the KJ's do a good job at keeping the singers singing with little dead air in-between songs. If you like to sing
only plan on doing maybe one song, two at the most, that is if you get there early enough to get your request in.
There will be a 3-4 hour waiting request queue line ahead of you. You might get lucky to do 2 songs if you stay there the entire
6 hours. They have computerized their karaoke CD+G, Laser disc media collection. I think they may also have subscribed to the
"Karaoke Cloud" service. The physical room lay-out still has much to be desired. The experience would be much nicer
if they would have a larger room, better stage and seating lay-out arrangement for their patrons, also have at least two bartenders.
This is Las Vegas and almost every small town has a bigger and nicer venue set-up for doing Karaoke.
Granted, the small towns do not have the abundance of karaoke talent that seems to always seems to gravitate to Ellis Island.
---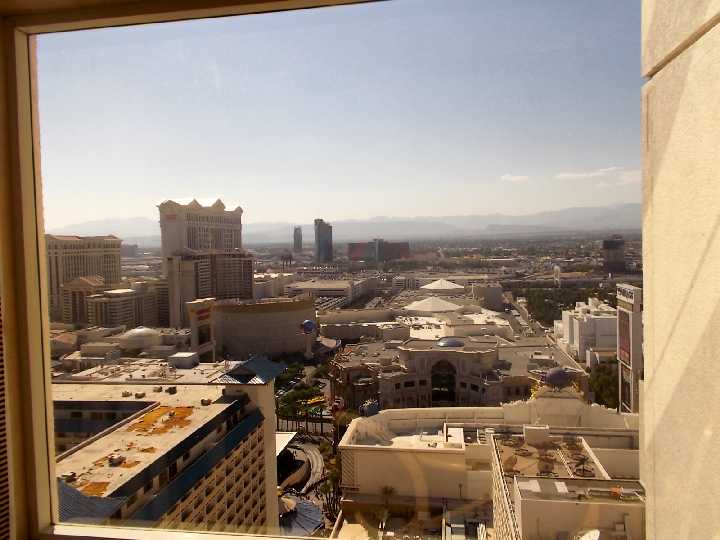 Harrah's Suite #3312
Nice westerly view of Caesar's out the window.
Living seating room with table, sofa, bar, wine cooler, HD TV and a view.
After resolving the door key problem Friday, Diane obtained some Jubilee tickets at the Harrah's Box Office.
Then we went across the street to the Mirage's former "BB King's House of Blues" place, which is now the
newly opened "Pantry". Mirage's Pantry - 24 hour Dining for lunch. I had the Cod.

---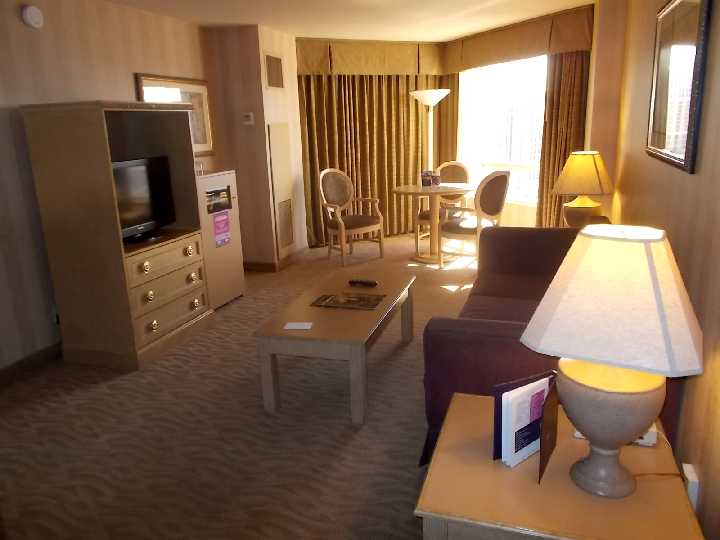 I am very grateful for all the freebies that have been showered upon me the past two Vegas trips.
Kind of makes feel like a "Freddie the Freeloader". Thank you! ! ! ! ! ! ! ! ! ! ! ! ! ! ! ! ! ! ! ! ! ! ! ! ! ! ! ! !
---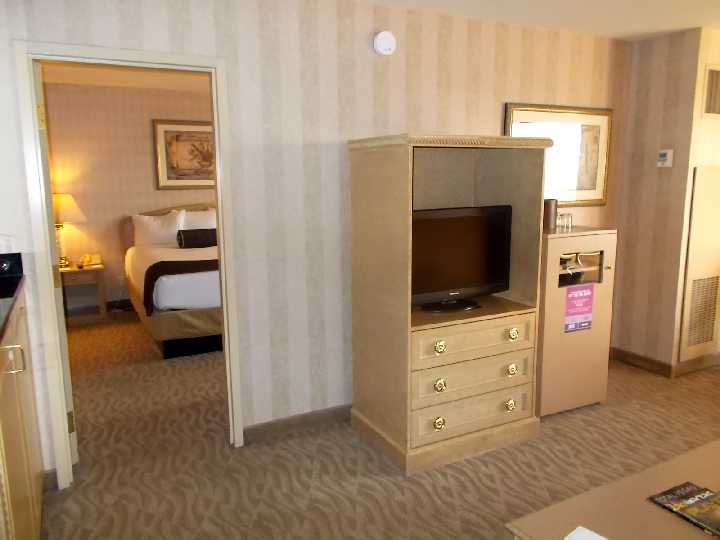 ---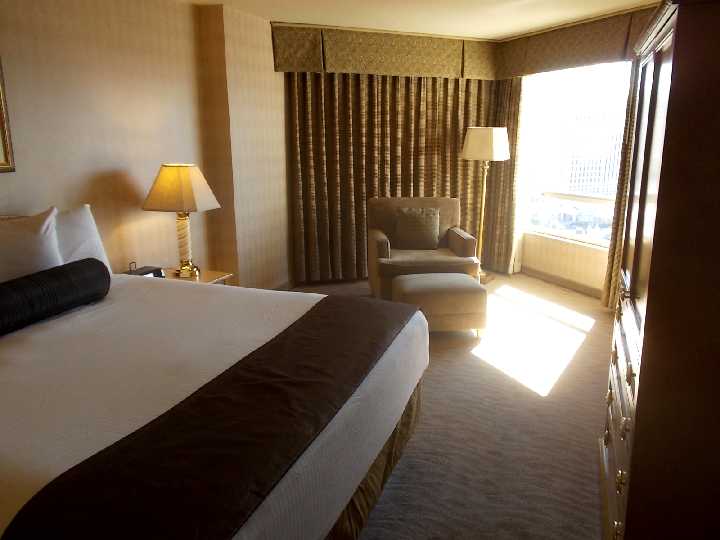 Bedroom with a enclosed HD TV.
---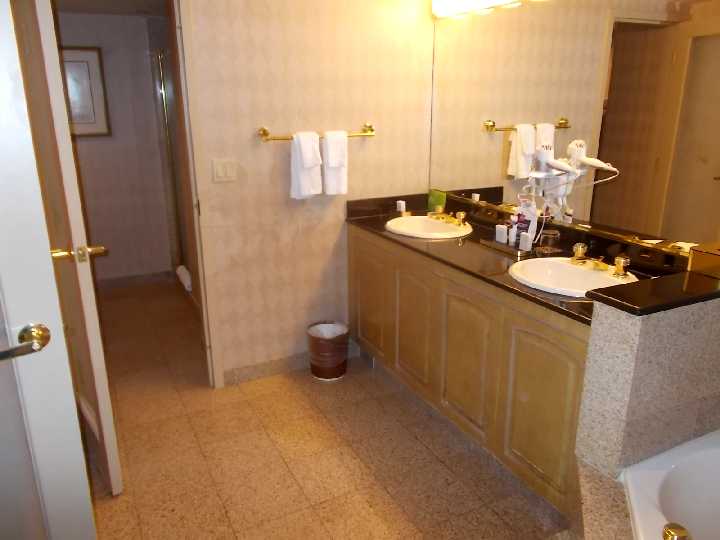 Two room, double vanity bathroom, marble tiled floor, telephone, glass shower, whirl-jet bathtub with TV.
---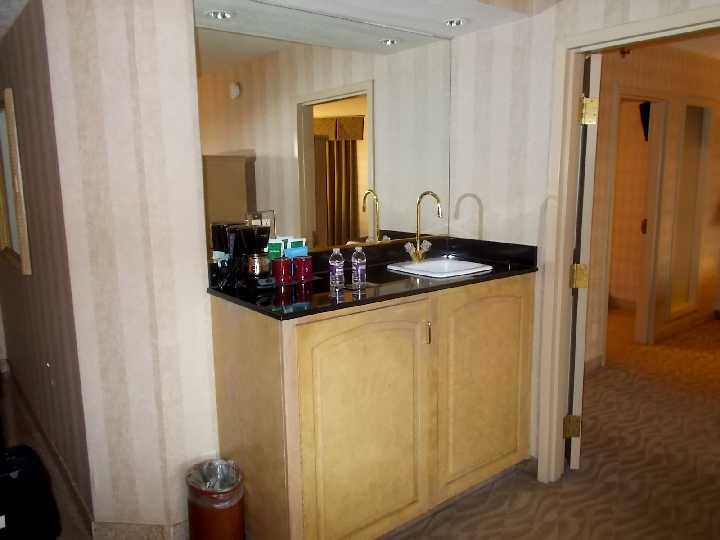 View of the wet bar and a glimpse of the corner ceiling mounted TV above the bathtub area.
---
Back To Vegas 7 Back To Vegas Itinerary Menu &nbsp Next To Vegas 2