---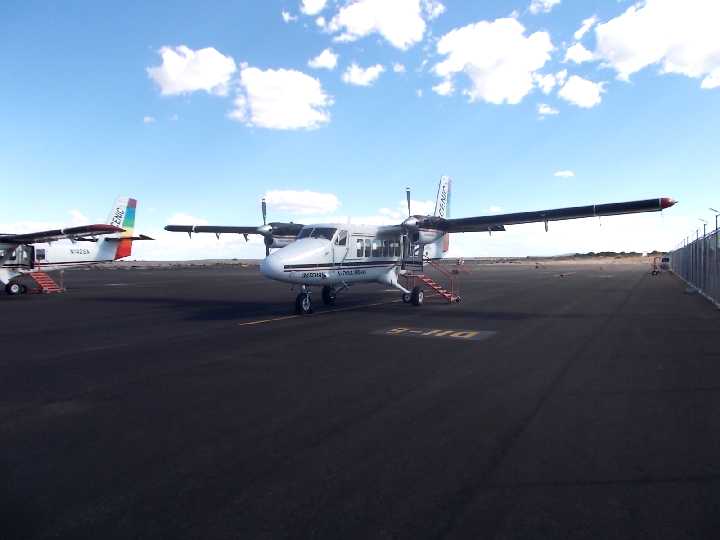 A couple of Scenic Airliner - Twin Otter Vistaliners.
---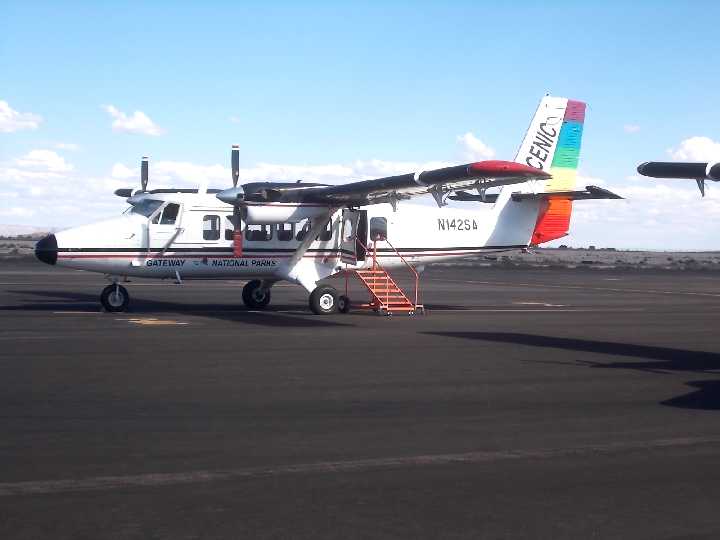 Scenic Airlines - De Havilland Canada DHC-6-300 Twin Otter Vistaliner

---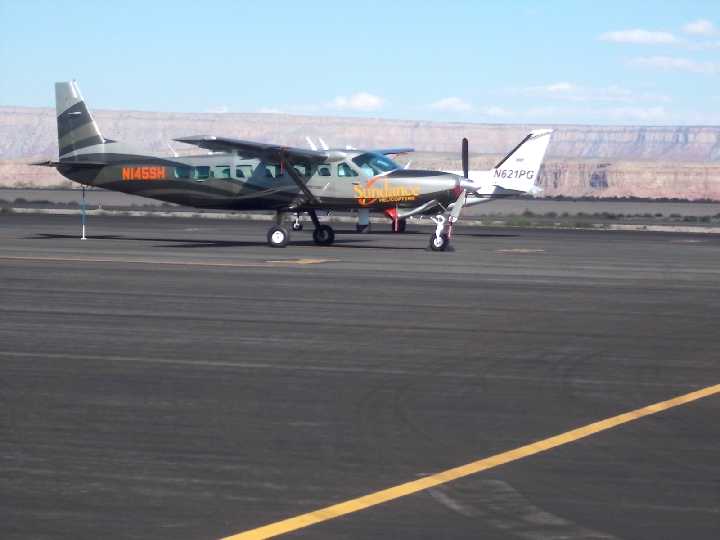 Walking the ramp back to our plane and looking at Sundance's Cessna Caravan (single-turboprop) (C208/G) .
Piper Navajo Chieftain PA-31-350 parked next to it.
---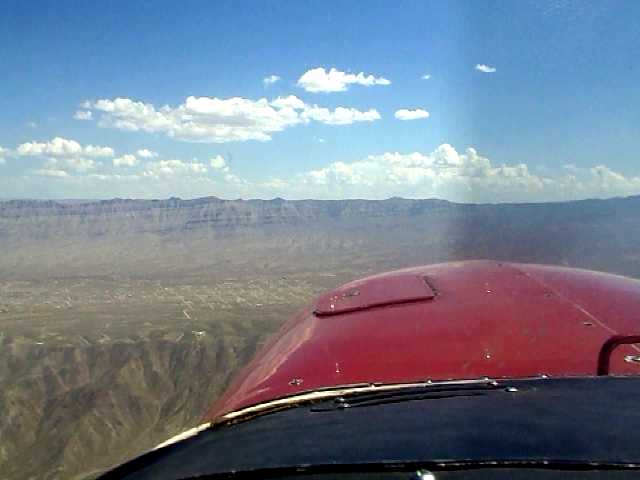 This is an extracted still image from a video clip flying eastward to the Grand Canyon West Airport, approaching
Meadview straight ahead. We were at an altitude of 5,500 feet. Meadview is a fairly recently developed retirement community.
You can see the increased terrain elevation of "Grand Wash Cliffs" beyond "Meadview".
We will climb an additional 300 feet to 5800 feet and fly through a gap between a couple of cliff peaks.
---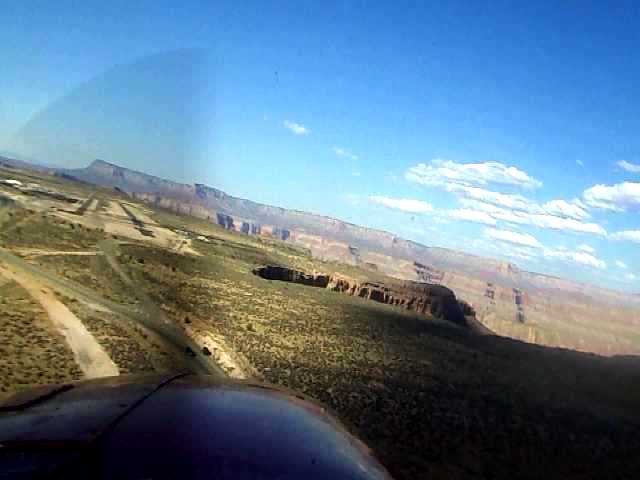 This is the first still picture capture from a video clip of the Touch and Go Landing on Runway 35 at 1G4.
This is a left turn from Base Leg to Final Approach. I started this turn a little too soon making the bank roll out
nose angled pointed right of the centerline. I needed the base leg to be just a little longer with a steeper banked
turn to final for proper center line runway alignment. I sometimes do this on close tight patterns, especially during
low/slow speed approaches and in unfamiliar airplanes and now at this high density altitude airport with a cliff edge
in front of me. I guess was being a "little stall gun shy" or subconsciously adverse to a "cliff edge sharp turn".
Time to stop making the rambling excuses.
---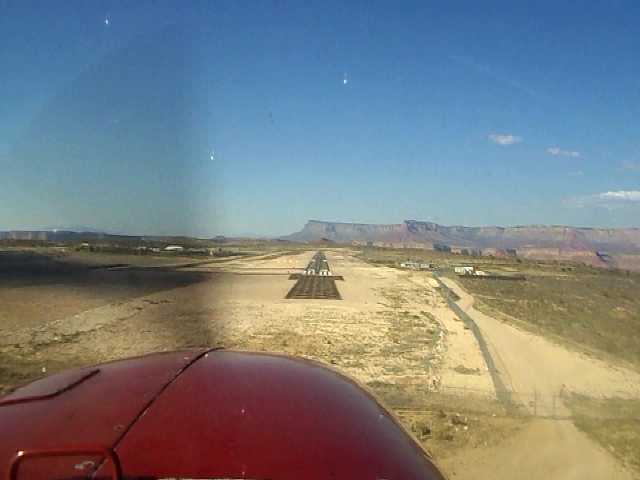 Finally starting to get lined up with the centerline.
---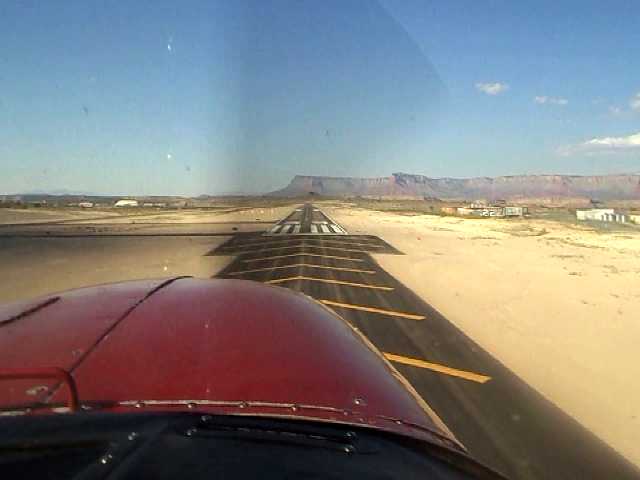 Over the runway threshold.
---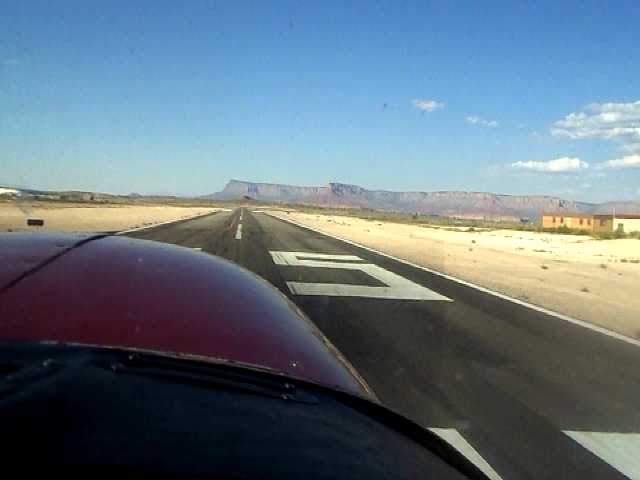 Starting the landing flare.
---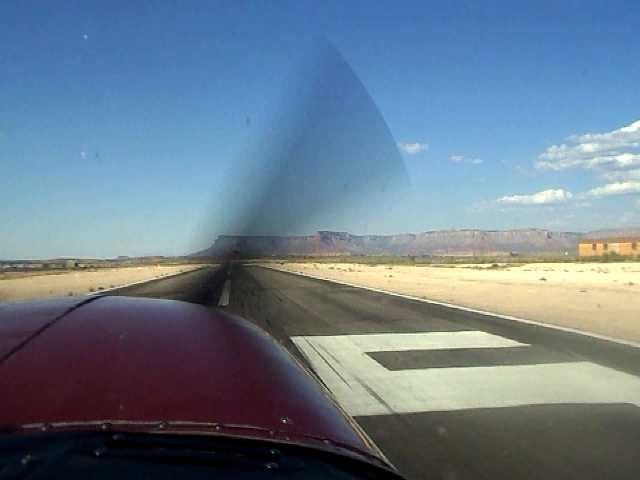 Touch down on the centerline and numbers on Runway 35
---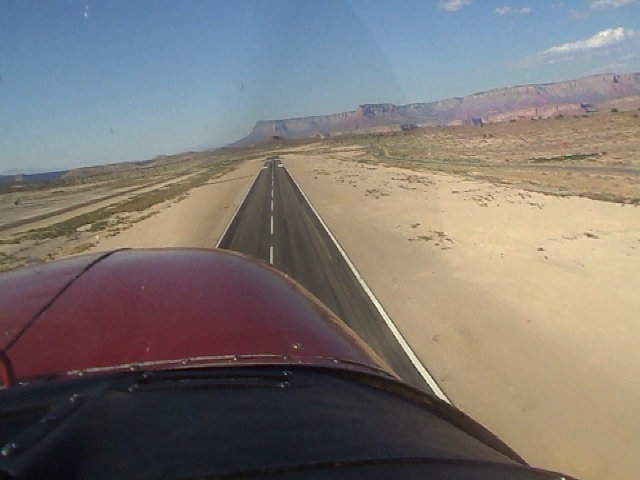 Take-off & climb-out after touch and go landing on Runway 35
Crosswind west turning climb to 6500 feet back to the Vegas Area
---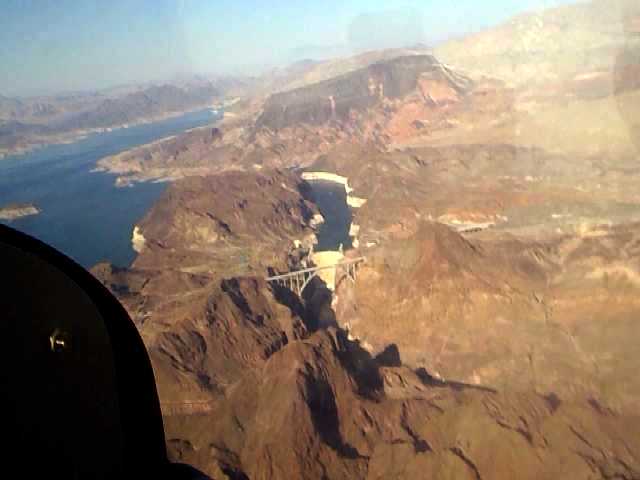 Lake Mead - Hoover Dam after right turn from Indian Pass
Then onward to over fly Boulder City, Henderson Executive and McCarran International Airports
---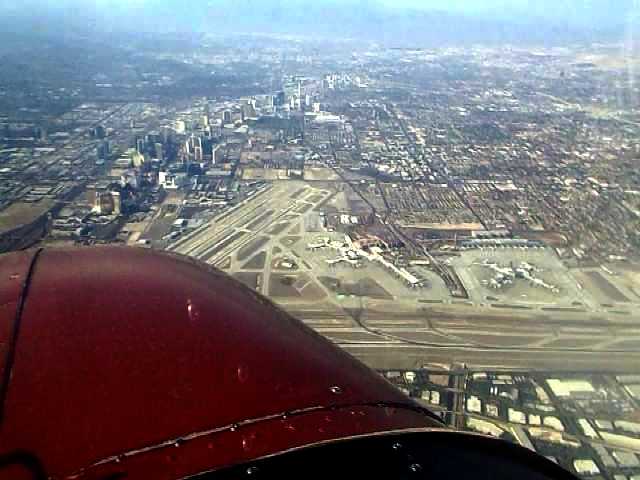 Good view of the entire Las Vegas Strip looking northward.
Over flying McCarran International Airport Runways 7-25L/R & 1-19L/R - Nose pointed at Mandalay Bay
---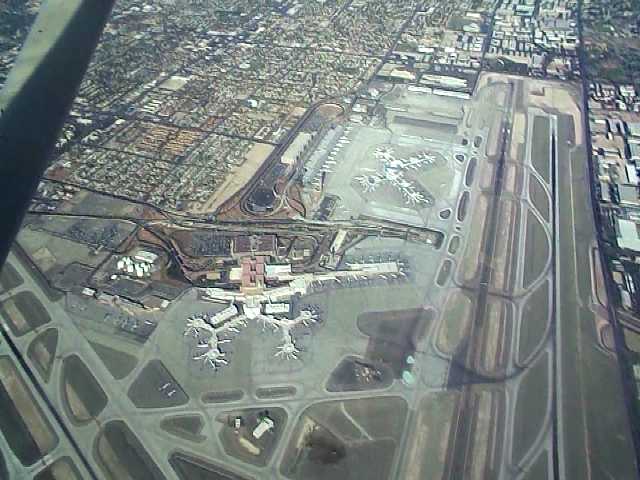 Directly over both of McCarran's parallel runways looking at the Terminal Building.
---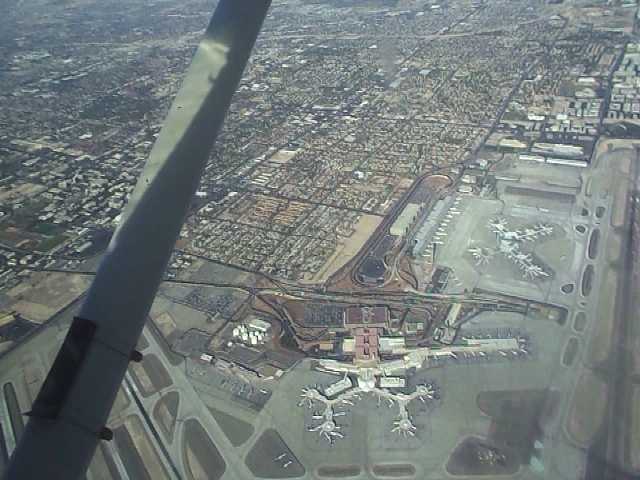 McCarran International Airport
---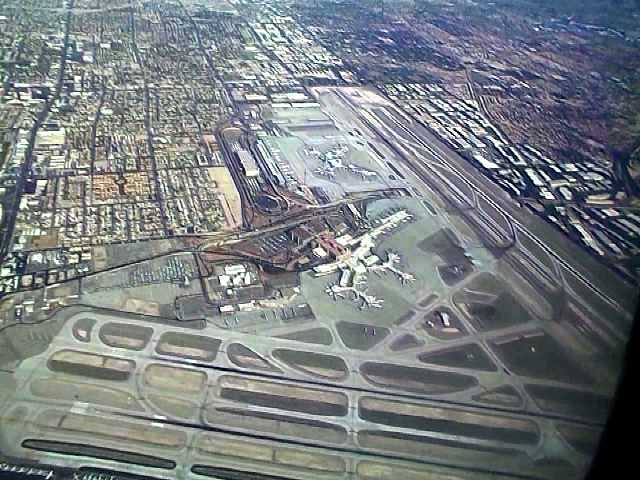 Southeasterly view of McCarran International Airport
---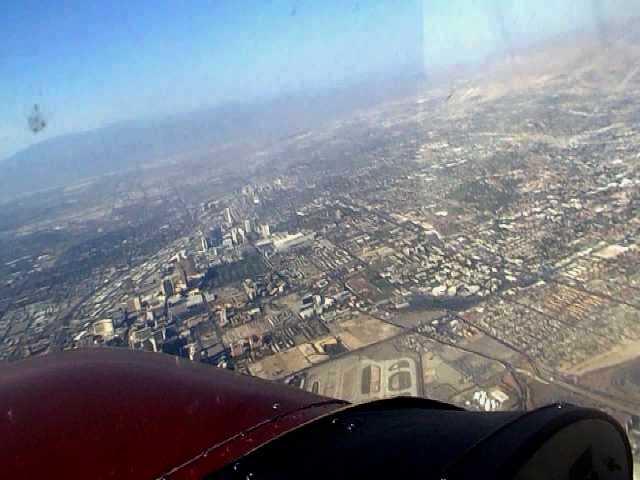 Nice view of the Strip while directly over the north end of Runway 19L at McCarran International Airport.
---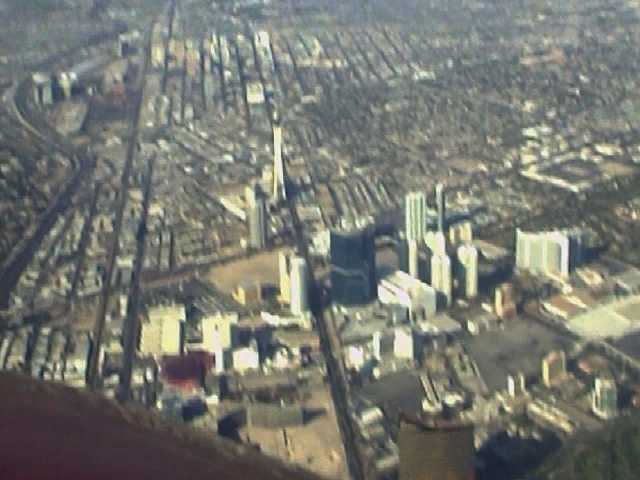 The Wynn is lower bottom-center-right and Stratosphere is straight ahead
---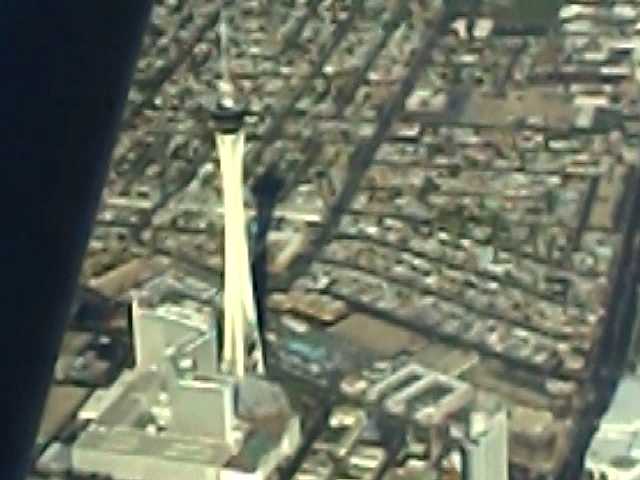 A closer look of the Stratosphere. Picture focus is diminished when you use the zoom camera feature.
I had stayed here many times in the past and have done all of their attraction rides.
---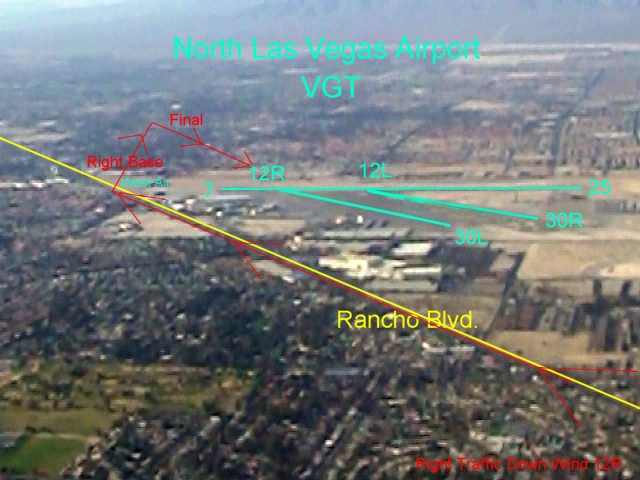 From the north end the Strip, made a left turn at 3000 feet and followed Rancho Blvd. for right traffic downwind leg
and landing on Runway 12R.
---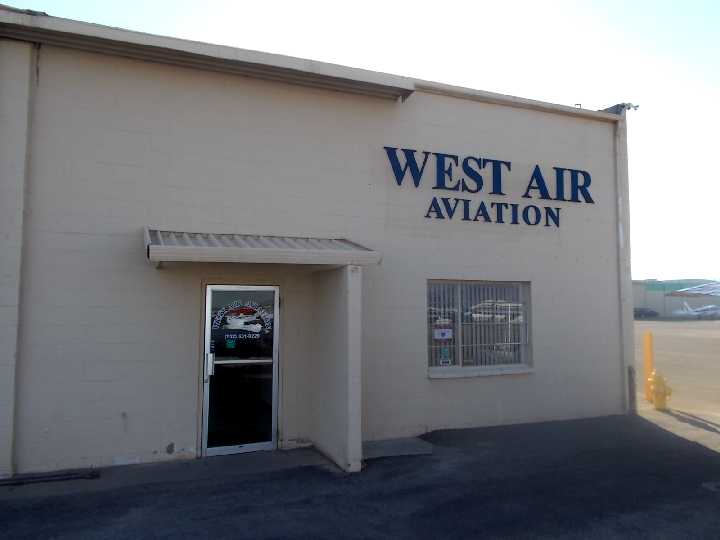 Back to the West Air Terminal Building.
---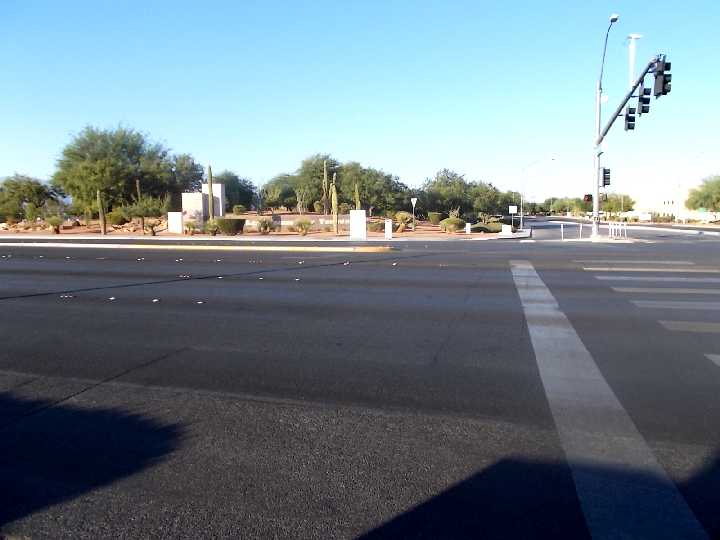 Rancho Blvd. and Airport Drive intersection that takes you to the North Las Vegas Airport Terminal and West Air.
The northbound Rancho Blvd. #106 has a bus stop just north of this intersection, saves a walk from the Fiesta stop.
---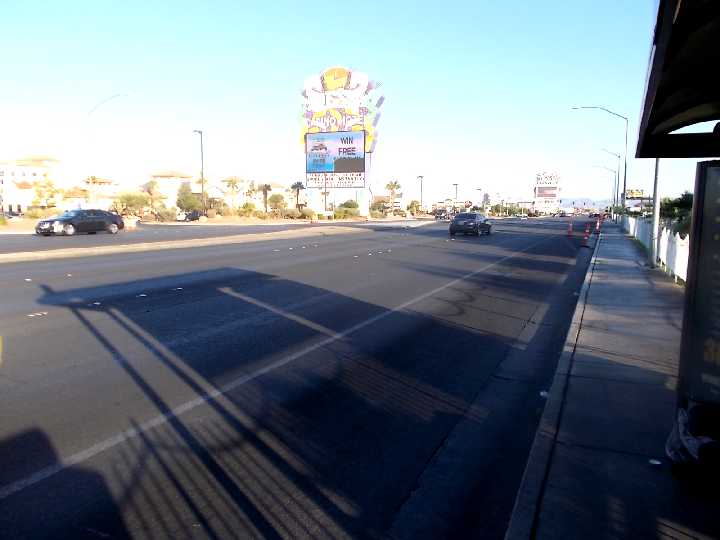 Waiting for the Southbound Bus #106 across from the Fiesta Casino Hotel. Texas Station further southeast.
Hoping the bus will arrive soon and will not encounter the route detours like the Deuce and the #106 had previously
done during my northbound trip, due to the 4th Annual Fiesta Las Vegas Latino Parade staging on the Downtown Streets.
---
Back To Vegas 5 Back To Vegas Itinerary Menu &nbsp Next To Vegas 7