Fleet Center - Museum of Science
---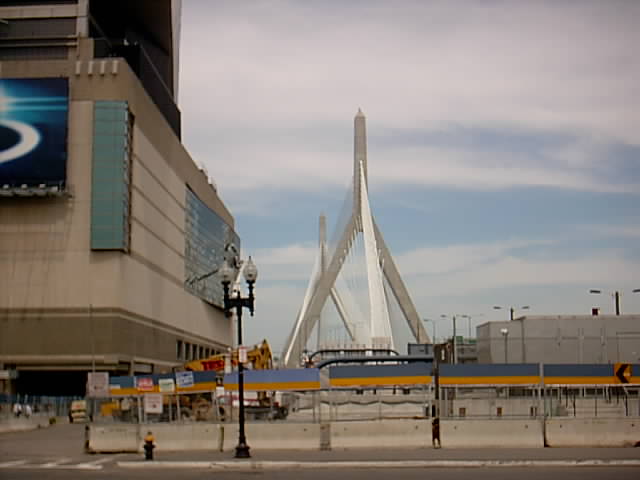 This picture was taken after getting off the Green Line from the North Subway Station, before crossing Causeway Street.
Fleet Center (left) and the Zakim Bridge (center) completed in 2002 and opened with the completion of the CAT in 2003. It is the widest cable-stayed bridge in the world, 8 lanes of Interstate 93 and US 1. The Bridge serves as the northern entrance to and exit from Boston. The Bridge is named after civil rights activist Lenny Zakim and the American colonists who fought the British in the Battle of Bunker Hill
I intended on taking green line subway to the next stop near the Museum of Science.. The subway car driver said, this was his last stop and I had to get off. No major inconvenience, not that much of a walk to museum and I intended on checking out the Fleet Center after the DUCK ride anyway, I'll check-out the Fleet Center first instead.
---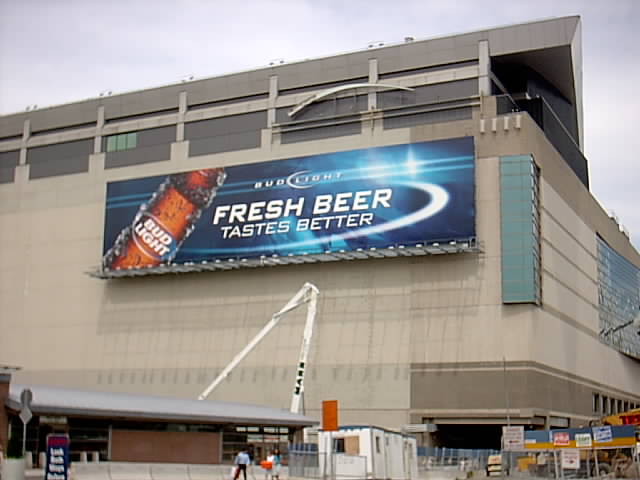 The "Fleet Center", also known as the TD Bank North Garden, Boston Garden or Shawmut Center. It is a well known sports arena and is home for the Boston Celtics Basketball and Boston Bruins Hockey teams. Here is a trivia question that was posed during my DUCK tour. What person played for all three of Boston's professional sports teams, Red Sox, Celtics and Bruins? Give up? The answer is John Kiley, he was the organist. The Fleet Center is also the home of "North Station", for the MBTA commuter rail trains. There are 12 tracks of which only 8 are currently being used. Most recently it was the location site of the Democratic Party National Convention on 7-26-04 thru 7-29-04 which launched John Kerry's presidential bid and defeat in November.
---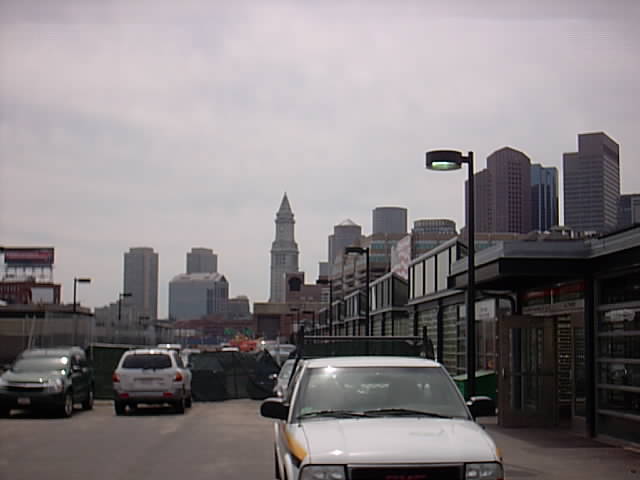 Causeway Street North Station
View of the prominent Custom House Tower Building (Center Skyline) with the clocks and pointed roof top top.
---
After checking out the inside of the Feet Center, I purchased a large Diet Coke at McDonalds, which was inside at the easterly end, before continuing to walk to the Museum of Science.
---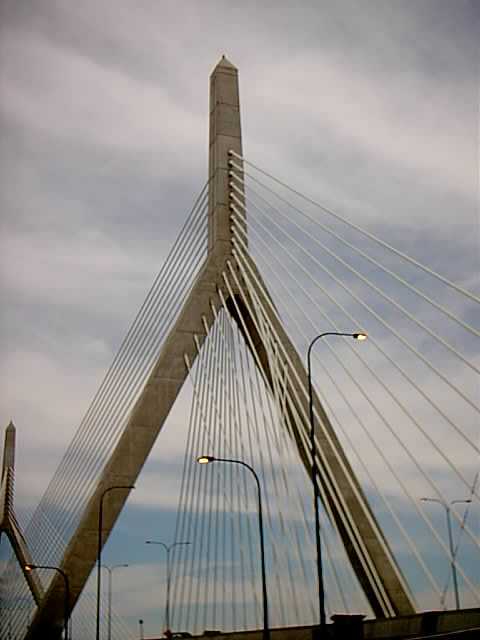 Leonard P. Zakim Bunker Hill Bridge
---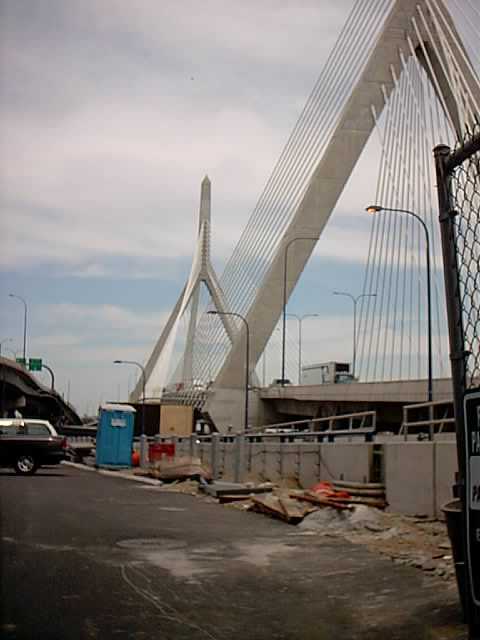 As you see the "Big Dig" is still a work in progress. Leonard P. Zakim Bunker Hill Bridge.
---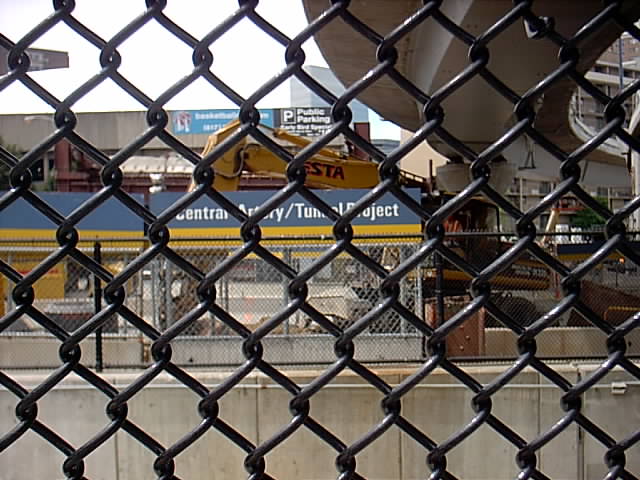 CATP Central Artery/Tunnel Project "The Big Dig"
---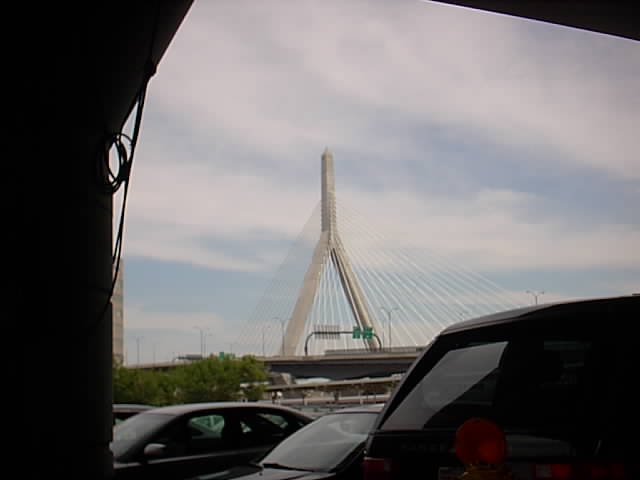 Interstate 93
---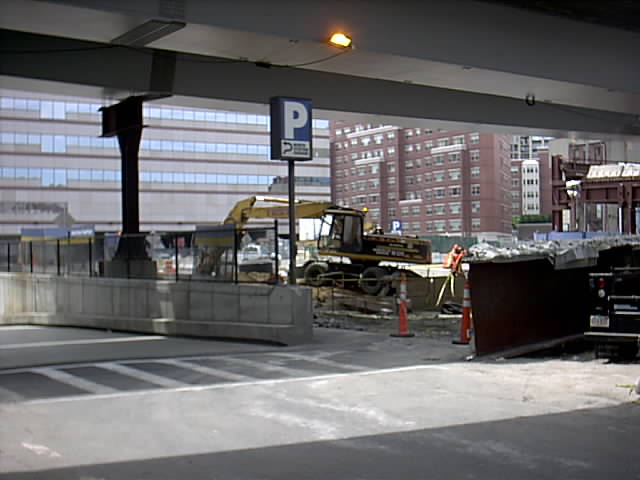 The concrete barriers mark the detour sidewalk walking paths to accommodate the Big Dig or CAT construction project. I needed to walk these detours to get from the Fleet Center to the Museum of Science.
---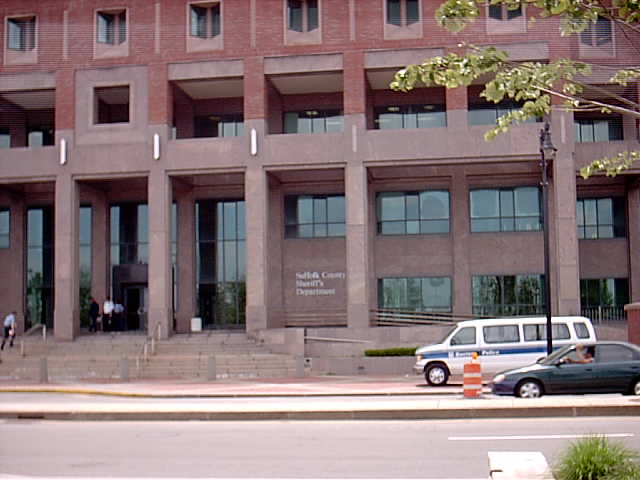 Suffolk County Jail, 200 Nashua St. The Jail Inmates housed on the back side of this building have a Charles Riverfront view.
---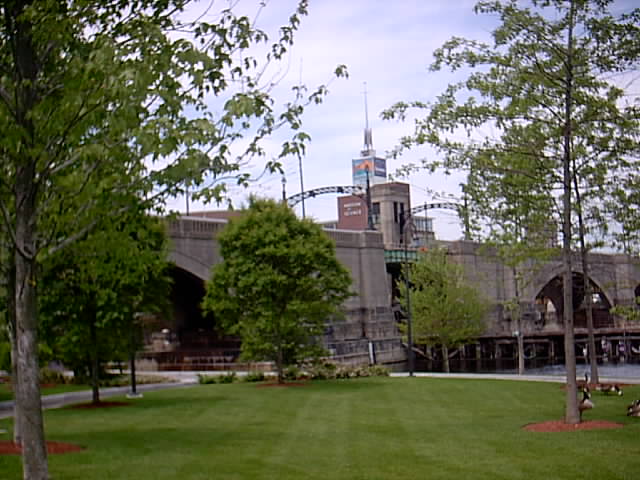 View of the Museum of Science while looking through the Nashua Street Park
---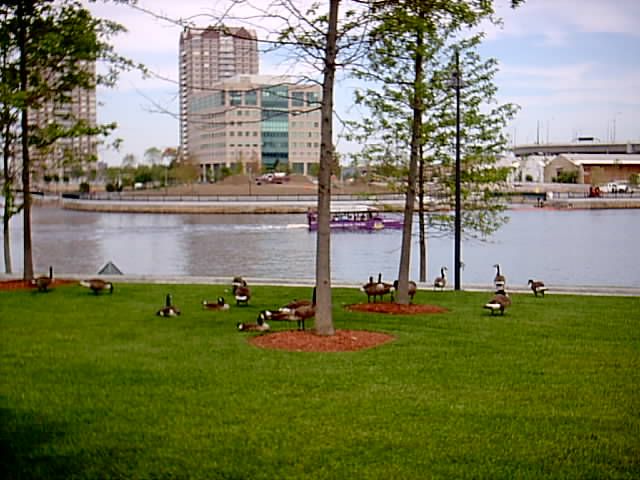 Nashua Street Park, where the living bird Ducks watch the people riding in the DUCKs
---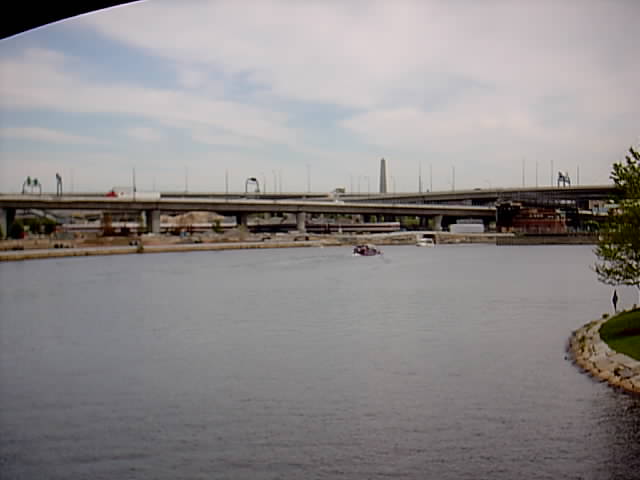 Watching the Duck going the channel, where I will be traveling shortly.
---
Back To Boston 22 Back To Boston Itinerary Menu Next To Boston 24