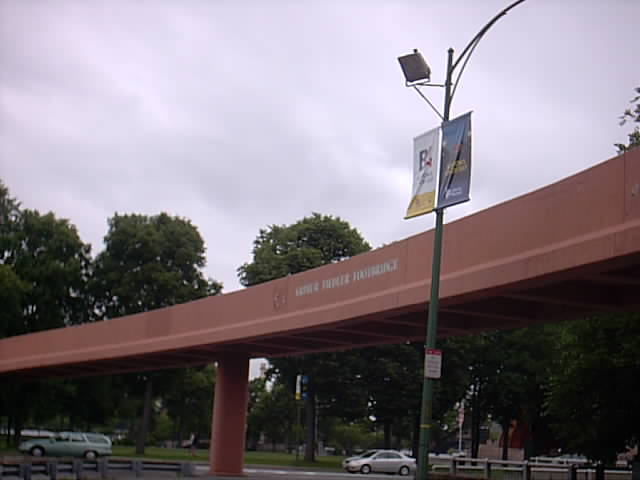 Arthur Fiedler Footbridge, I believe it was completed in 1953. It leads across to the Esplanade and Hatch Shell. I noticed this bridge while walking toward the Prudential Building. I was always a Boston Pops and Arthur Fiedler fan and never missed their Fourth of July concerts at the Hatch Shell. At first I was just going to take picture and continue, but I decided to cross it and check out the Esplanade and Hatch, since it is a historic place I have seen on TV so many times.
---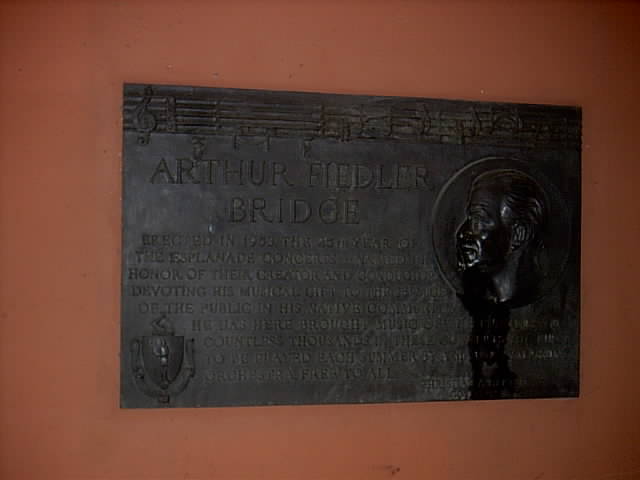 Arthur Fiedler, Plaque; on ramped entrance area wall commemorating the bridge
---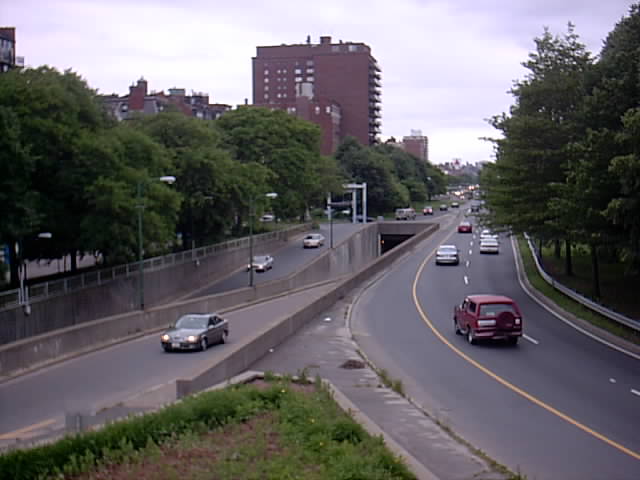 On the Footbridge looking down what I believe is the traffic on Storrow Drive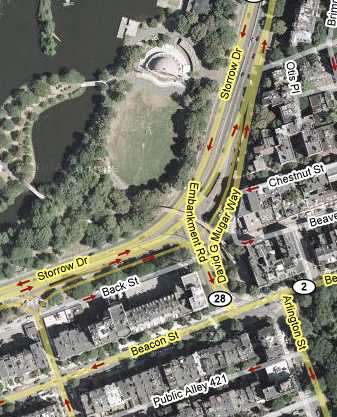 Aerial view of "Arthur Fiedler Footbridge, Esplanade and Hatch Shell", courtesy of Google Maps
---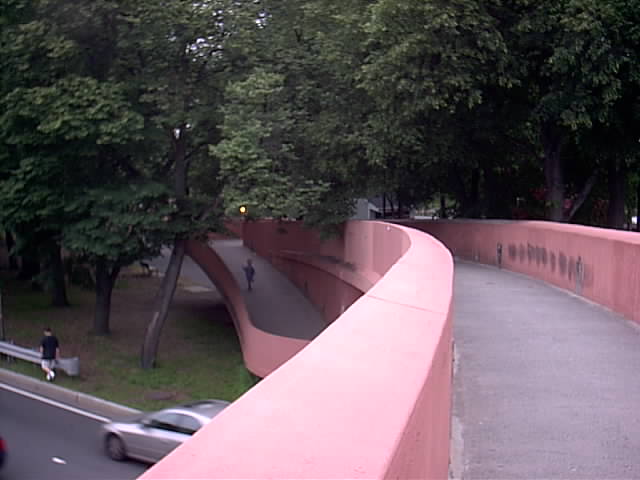 Another view while crossing the Footbridge. Note the design of the bridge's ramped exit to the Esplanade.
---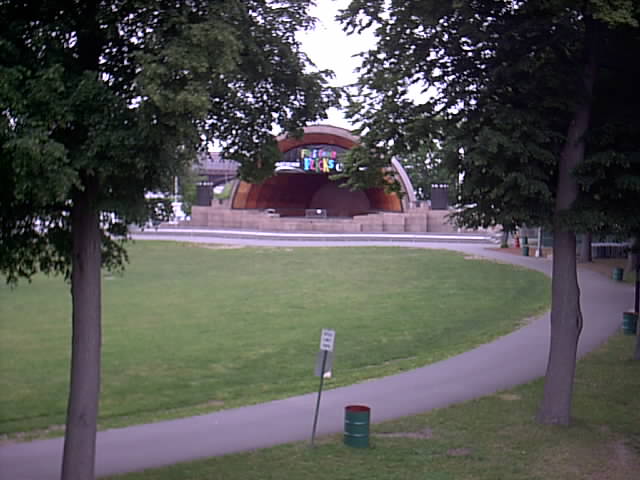 Hatch Shell where the Boston Pops perform every 4th of July. These concerts have become a long tradition for Boston and are telecasted yearly by Boston's Public Television Station, WGBH. Fiedler brought free concerts here to Hatch Shell that would suit the musical tastes of a wider audience. His programs included lighter classical pieces along with popular music. In 1971, the Boston Pops released an album of all Beatles tunes.
---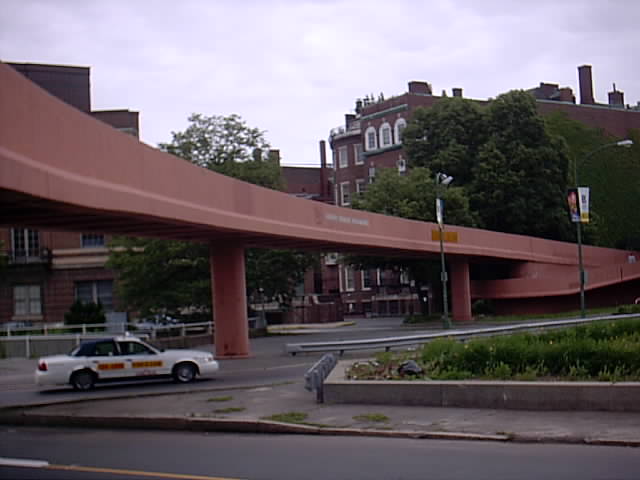 Another view of the bridge taken from Esplanade side of the bridge.
---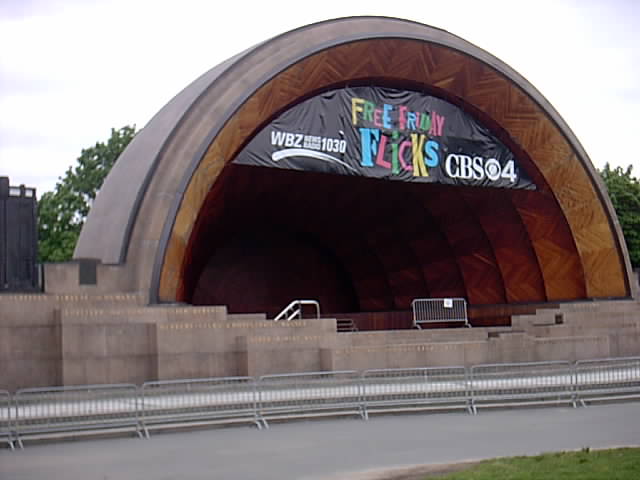 Hatch Shell where 200,000 to 500,000 people enjoy the music of the Boston Pops every 4th of July.
---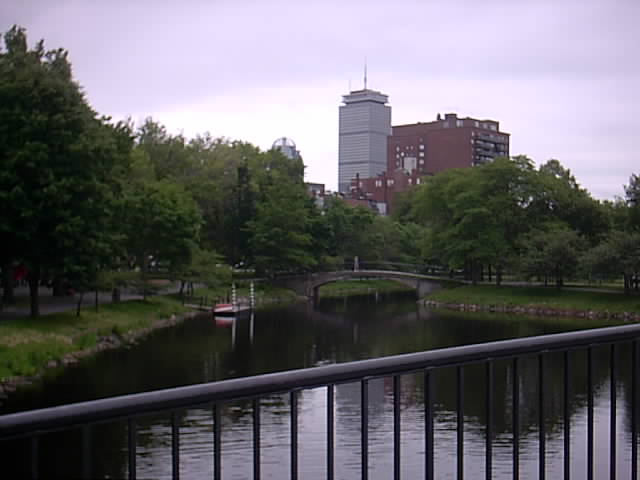 A view from the Esplanade of the Prudential Building where I'm headed.
---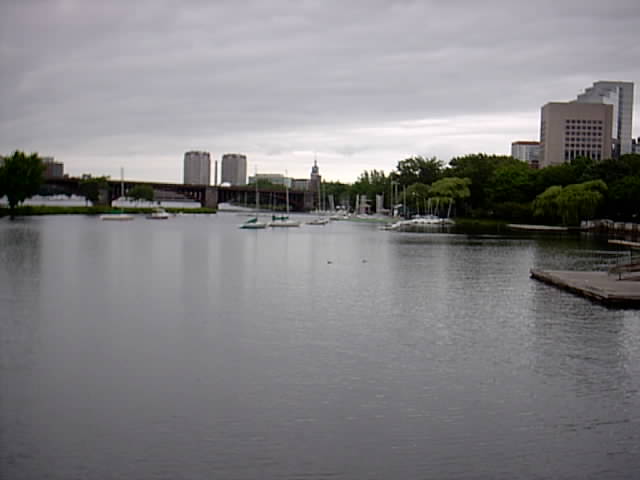 Charles River view from Charles River Park
---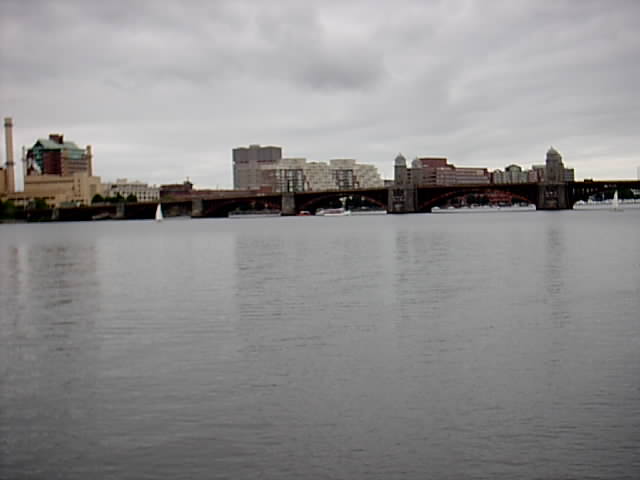 Charles River, at Charles River Park. This river was named by Captain John Smith in 1640 for "Charles", the reigning monarch, King of England, Scotland and Ireland. King Charles got a little power hungry and had a rift with his parliament that led to his execution in 1649. This river is fed by about 80 brooks and streams, and several major aquifers as it flows snakelike for 80 miles.
---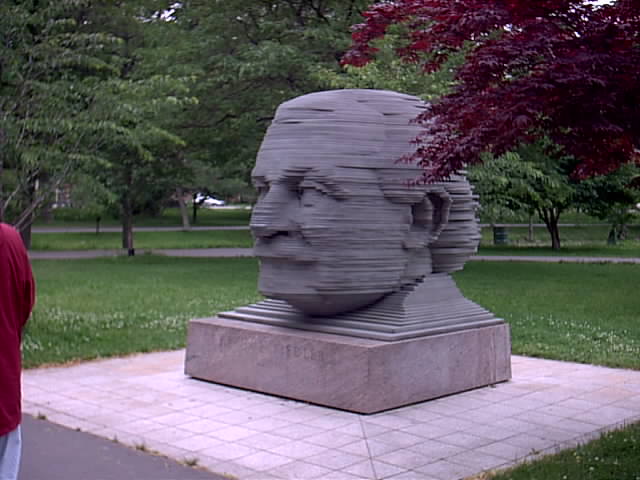 The Arthur Fiedler Statue in Charles River Park. In 1930 Arthur Fiedler became the conductor of the Boston Pops for almost 50 years until his death in 1979. Then John Williams, from Stars War & Indiana Jones movie theme fame, took over as its conductor until 1995. Then he passed the conductor's baton to Keith Lockhart, the current conductor. Boston's Symphony Hall is the home for the Boston Pops and where the WGBH's "Evening at Pops" concert series broadcasts were originated from.
---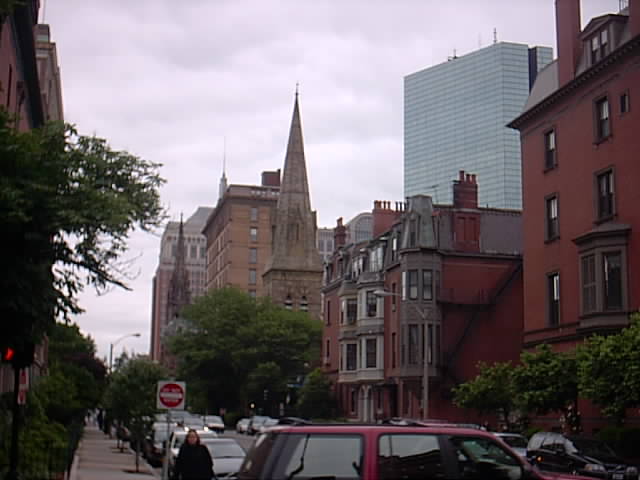 John Hancock Building
---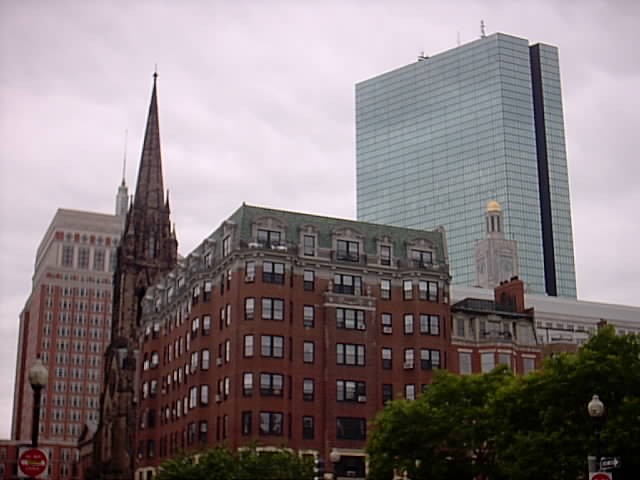 Old South Church and John Hancock Building
---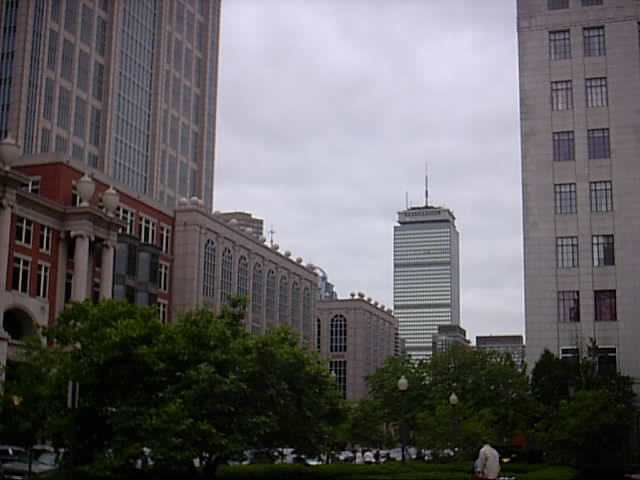 Getting closer to Boylston Street and the Prudential Building
---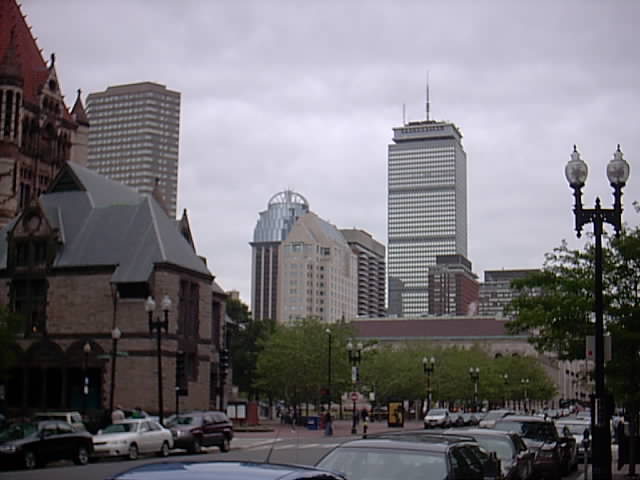 Getting closer to Boylston Street and the Prudential Building
---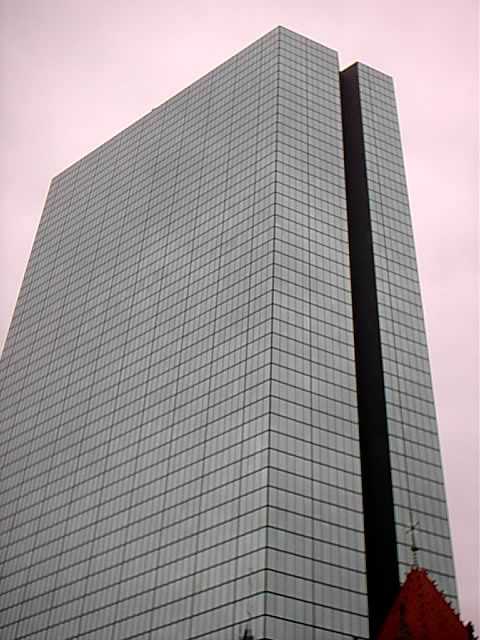 John Hancock Building, Boston's tallest skyscraper, at 200 Clarendon Street. It has 60 stories and is 790 feet high. This building had many design flaws to overcome, with the panes of glass falling out and people getting getting sick from the sway of the upper floors on windy days. This building was nicknamed the "Plywood Palace", from plywood temporary window replacements.
---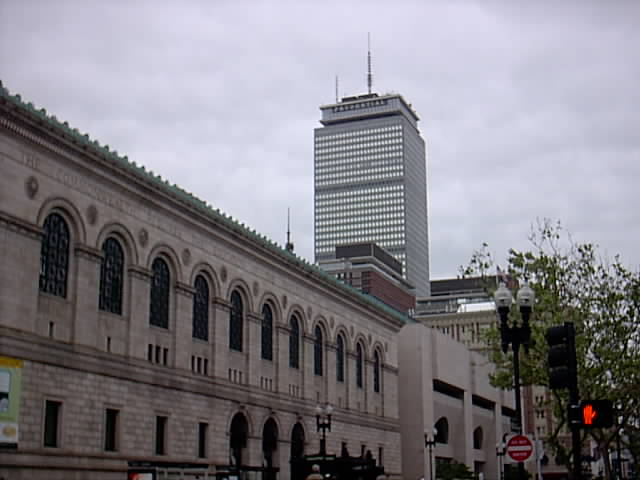 Getting closer yet to Boylston Street and the Prudential Building
---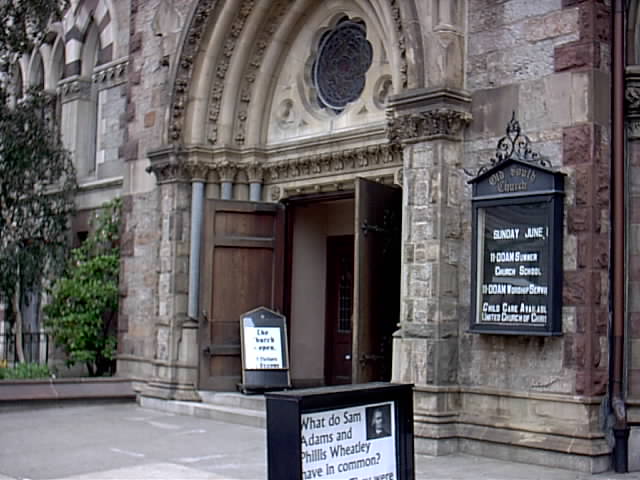 The Old South Church, 645 Boylston Street on Copley Square. It was built between 1872-1875 on the newly created land from Boston's Back Bay land fill project. It is a Venetian Gothic style structure, designed by the Boston architectural firm of Cummings and Sears. The congregation consisted from the United Church of Christ. This place is said to be Boston's third church. The church's congregation first met in their Cedar Meeting House in 1670 and then Old South Meeting House. The church was organized by dissenters from Boston's First Church in 1669. The congregation included many of the country's founding fathers.
---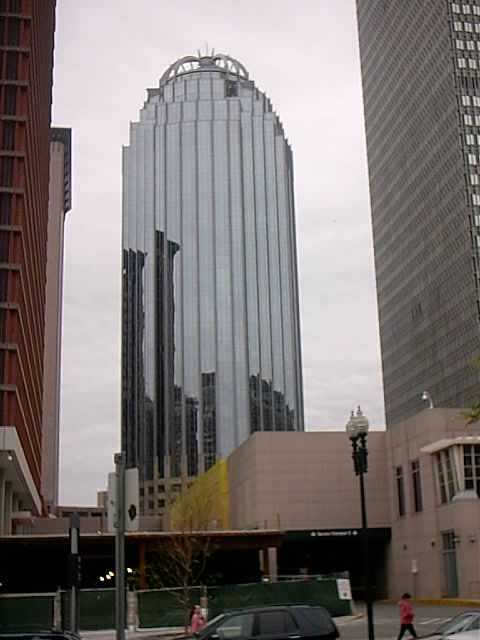 111 Huntington Avenue
The address is it's name. One of Boston's newer impressive Skyscrapers, adjacent to Prudential Tower.
---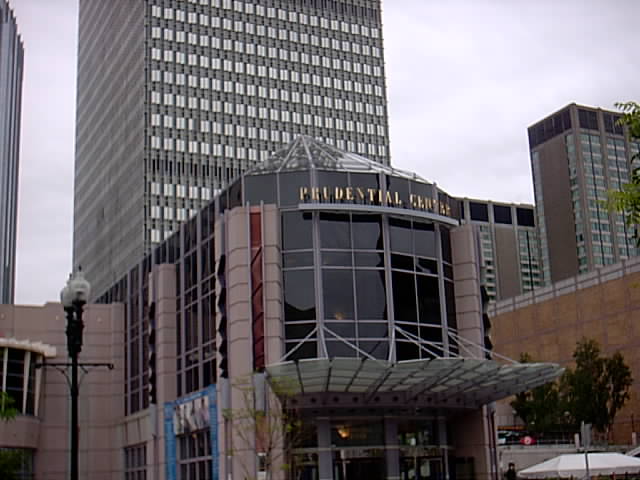 I arrived at last. I'm looking forward to the birds eye view of Boston from the Skywalk Observatory.
---
Back To Boston 6 Back To Boston Itinerary Menu Next To Boston 8