---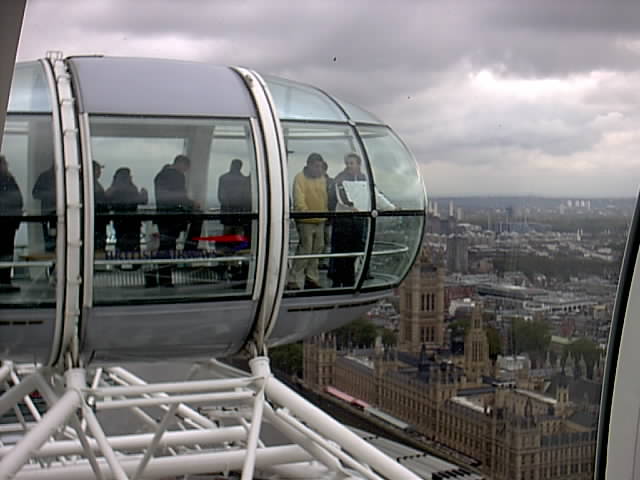 A "Capsule and "Houses of Parliament".
---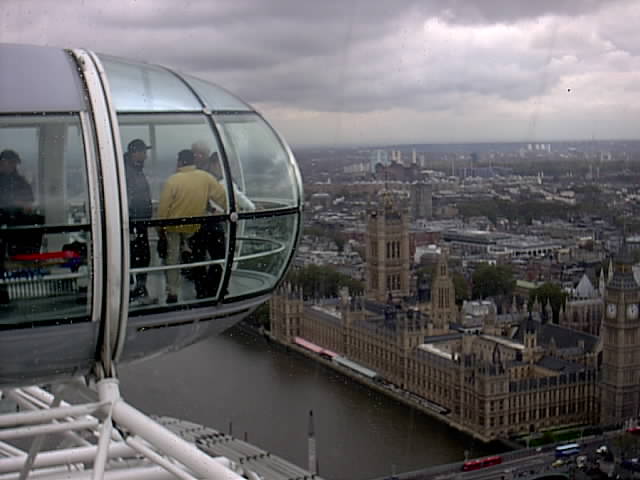 This one of the "Capsule, "Houses of Parliament" and "Big Ben".
---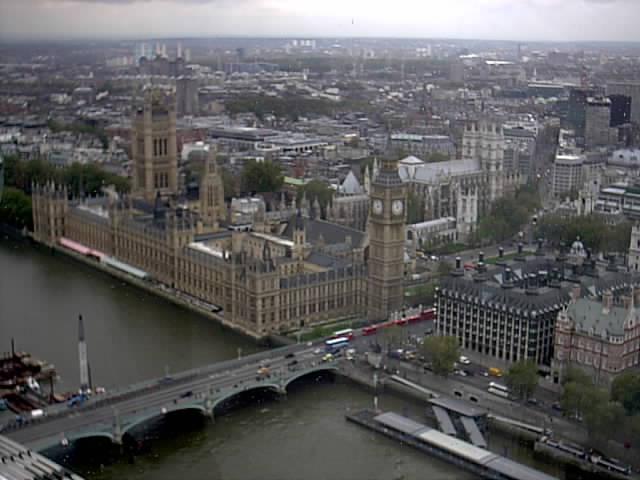 This one you can see more of the Parliament Offices to the right. On the left looking beyond the left tower of the "Houses of Parliament", you can see the smoke stacks of the "Battersea Power Station".
---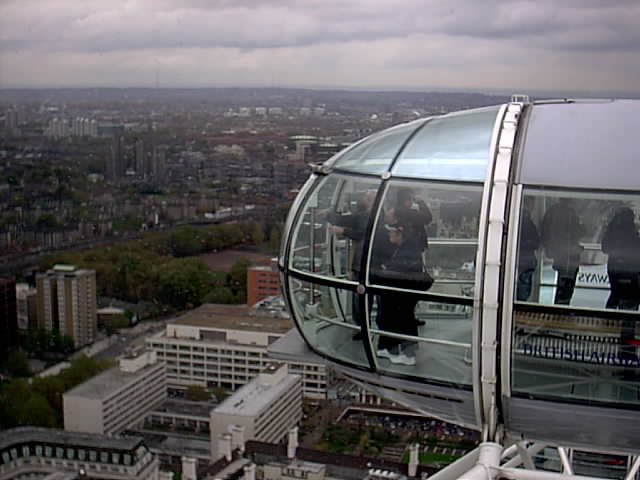 The capsule is almost blocking the view of "Lambeth Palace".
---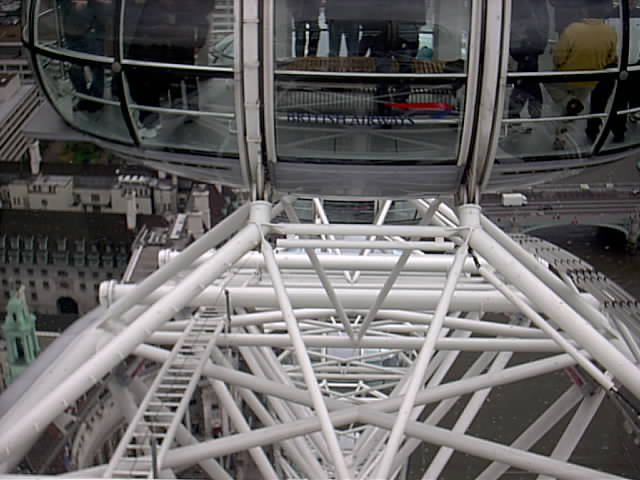 Looking below at the spokes and seeing a bit of "County Hall" through them.
---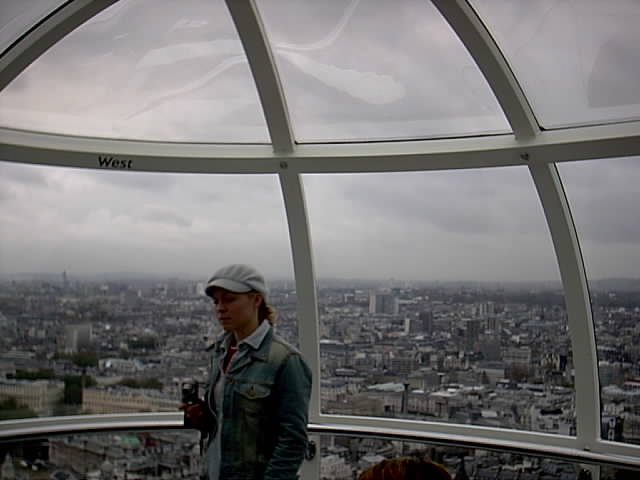 A tourist in my capsule posing for a picture. I think they can 25 people in a capsule. When the crowds are light like this day, they load about 7-10 people in one.
---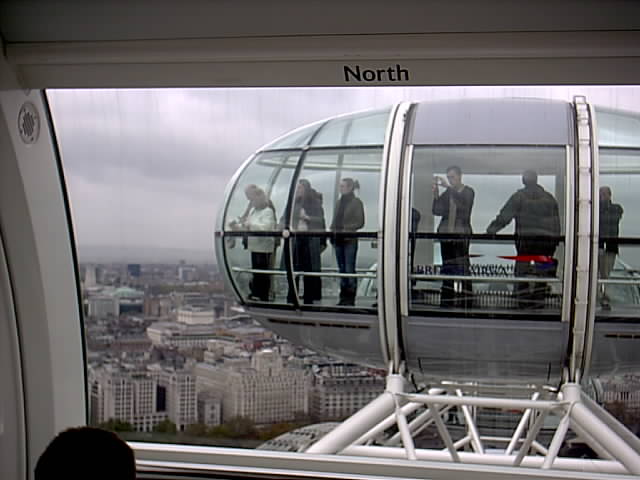 A nice way to get a view of London.
---
Looking south down the "Thames River". The Capsule below is blocking the view of the "Westminster Bridge", but the next bridge to the south is the " Lambeth Bridge". You can see a bit of the "Lambeth Palace" to the left of the bridge. The tall building just beyond this bridge and on the right shoreline is the "Millbank Tower". The distant bridge is the "Vauxhall".
---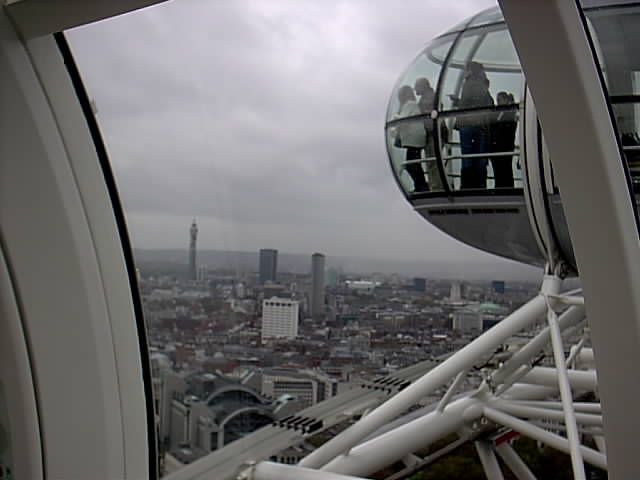 The tallest (pole like) structure you see is the "BT Tower" of "British Telecommunications" Tower. That's where the BBC radio and television transmitters radiates their power. The "Charing Cross Station" is at the bottom of the picture with "Centre Point" just beyond that.
---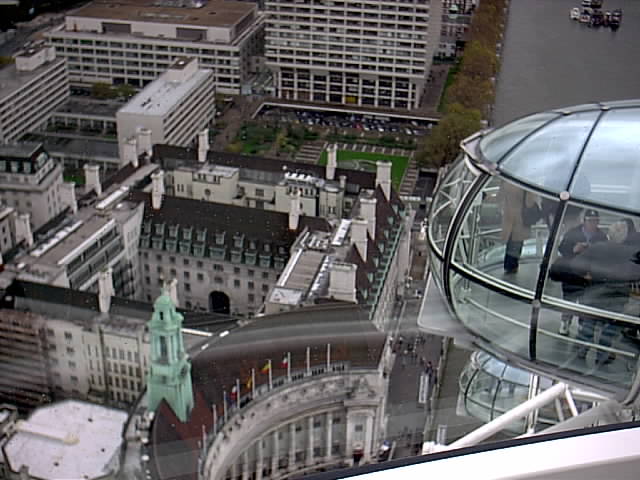 Looking straight down on top of "County Hall".
---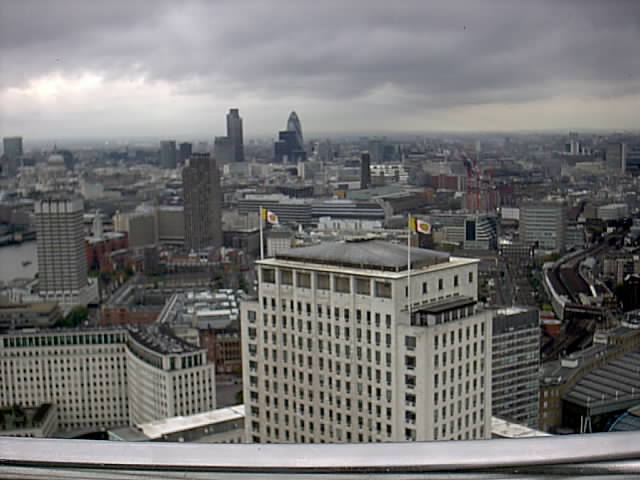 So many landmarks in this picture. Front an closet is the "Shell Centre". Waterloo Station is to right of this, but not pictured, "That's where you catch the (Eurostar to Paris). Center on the horizon are two tall structures, on the left is "Tower 42" and right is "Swiss RE Headquarters". To the left and center is the "Oxo Tower" and "Tate Modern Gallery" respectively.
---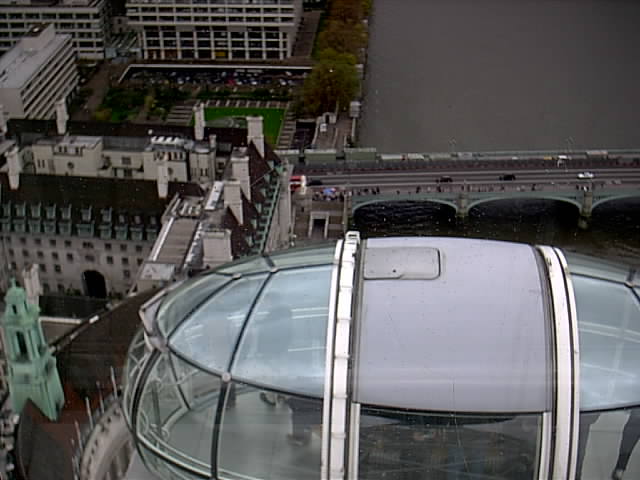 Another view of "County Hall".
---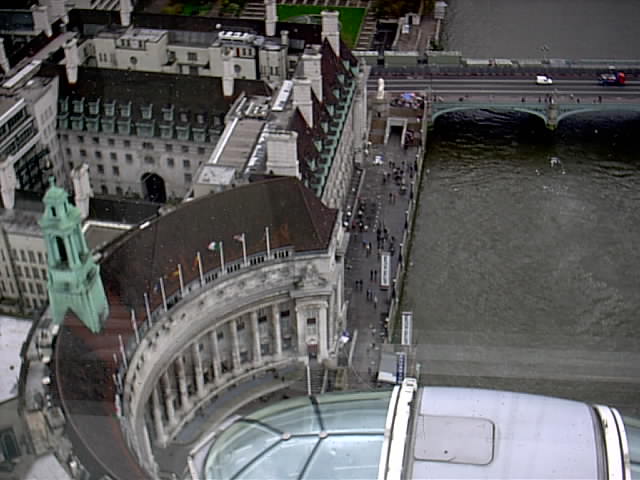 One more picture of "County Hall".
---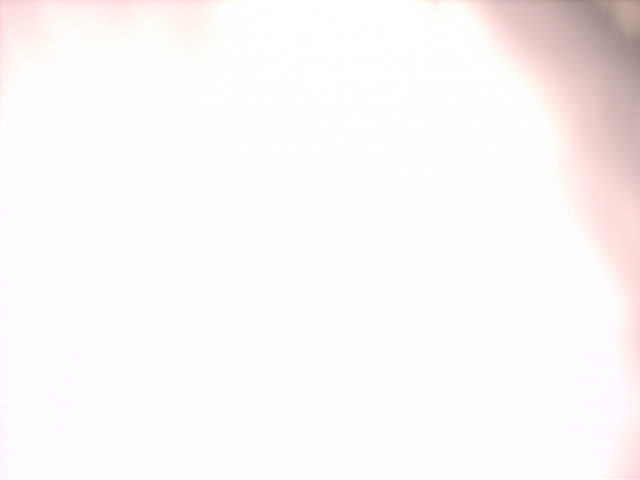 Blurry picture
---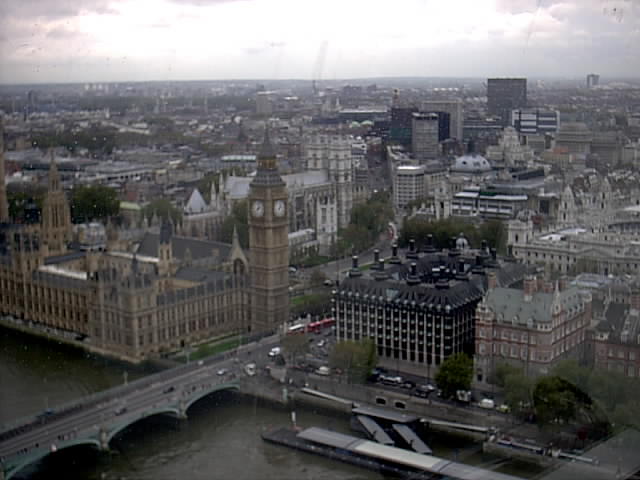 "Houses of Parliament", "Big Ben" and "Parliament Offices".
---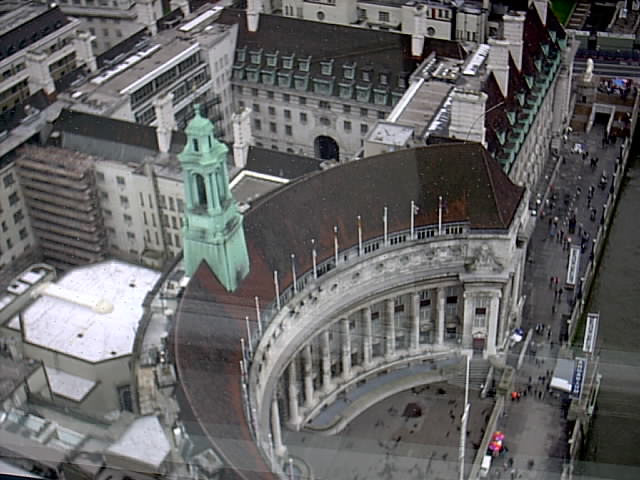 "County Hall"
---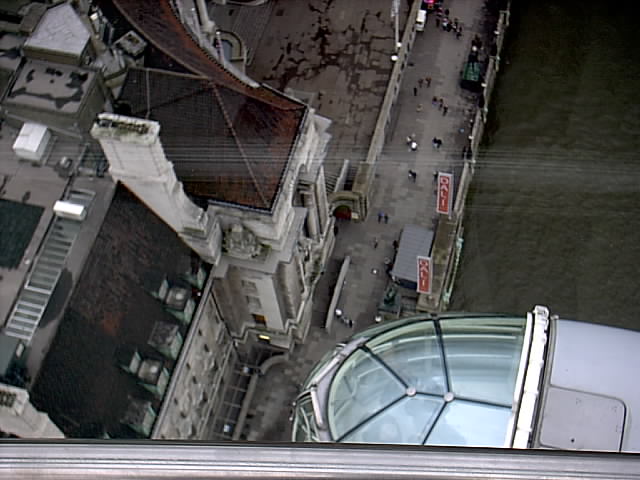 "County Hall"
---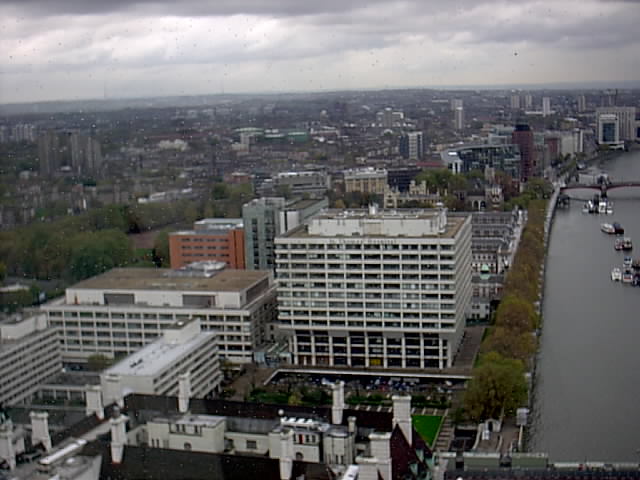 "County Hall". To left center of the picture, I just missed capturing the neighborhood where my hotel was.
---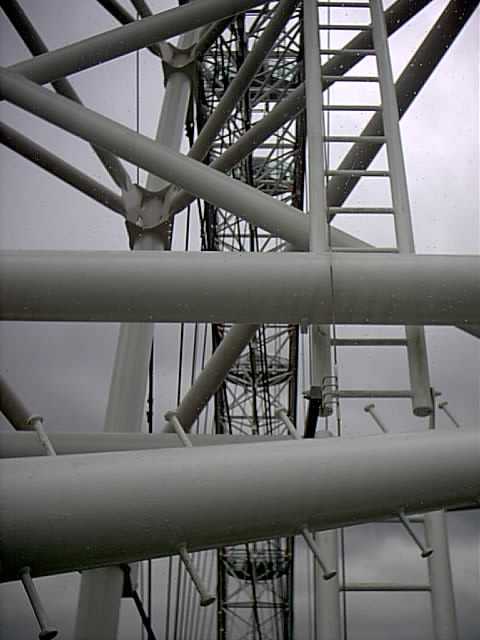 The Wheel design.
---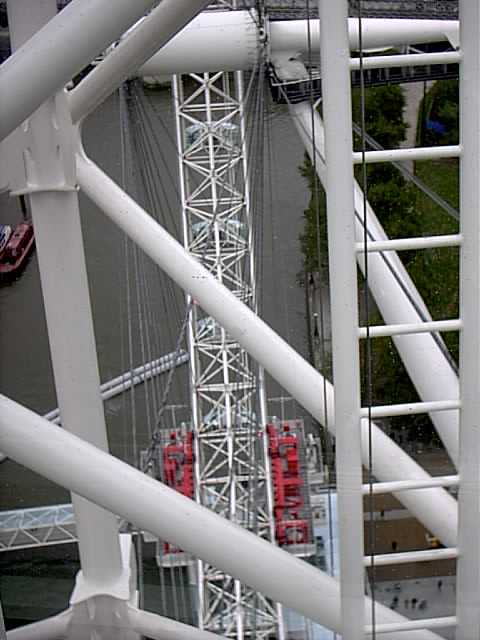 One more picture seeing what holds this thing together.
---
Back To Europe 4 Back To Europe Itinerary Menu Next To Europe 6