---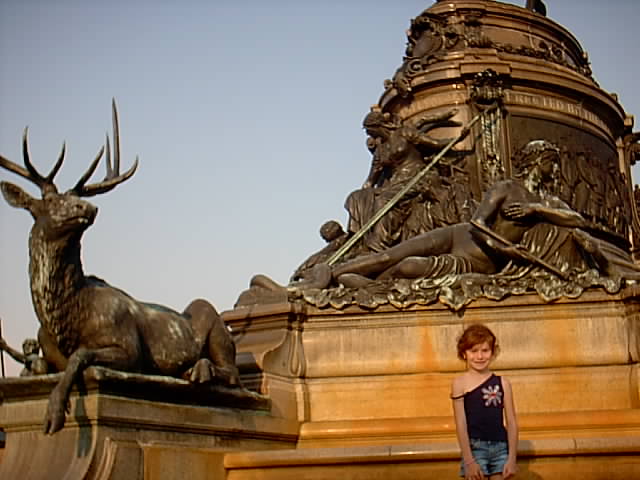 Brittany and the sculpture.
---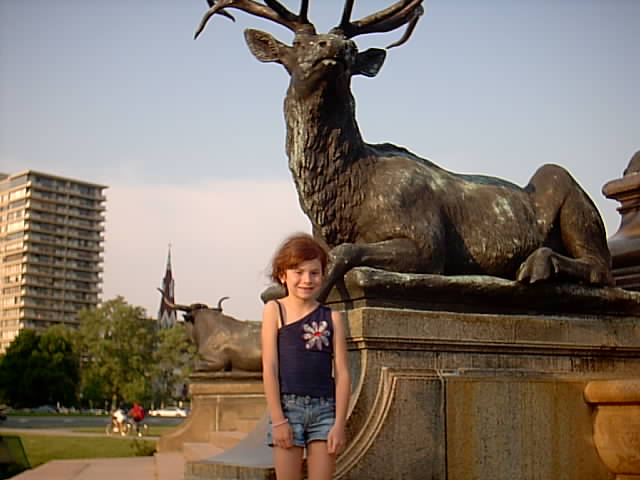 Brittany and the sculpture.
---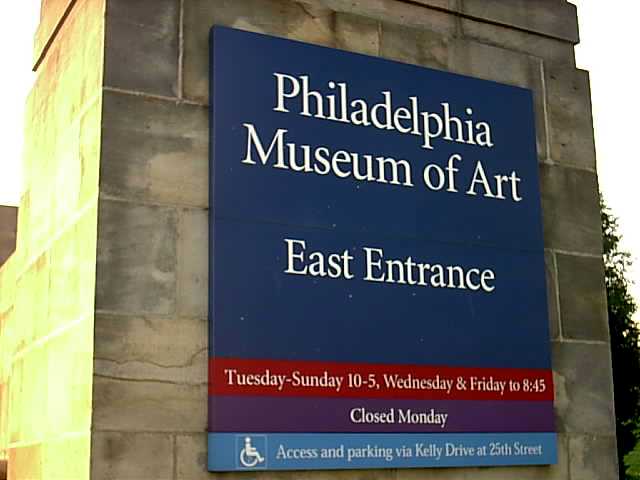 Self explanatory building sign. http://www.philamuseum.org/
---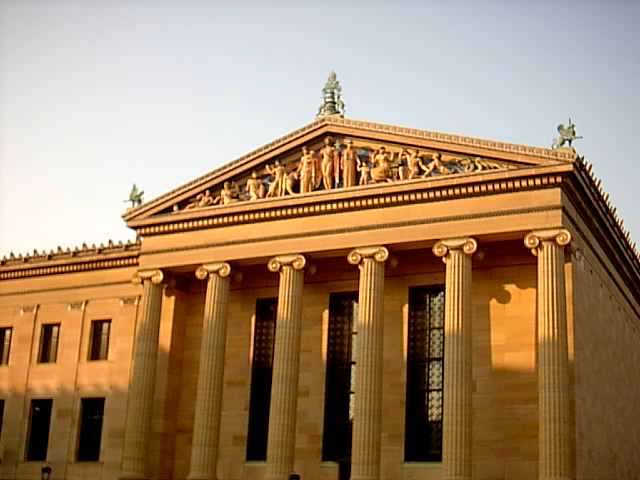 The decorative sculptures at the top of the museum's building facade.
---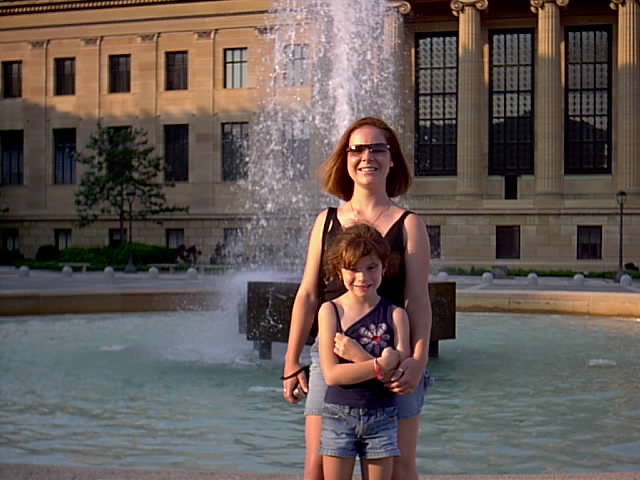 Brittany and Melinda in front of the fountain.
---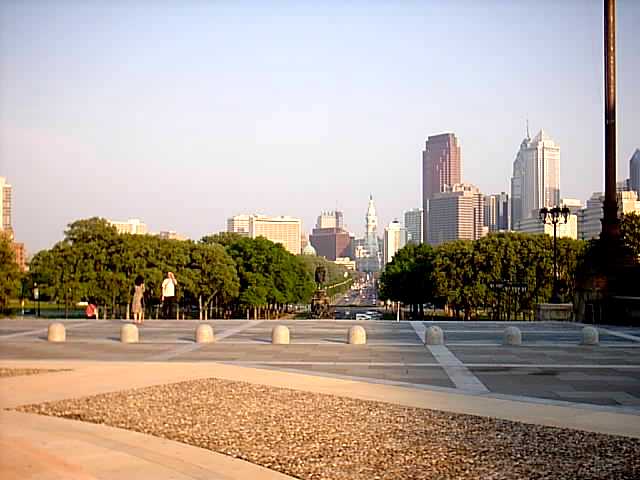 A nice view from the museum looking straight down at the Philadelphia City Hall.
---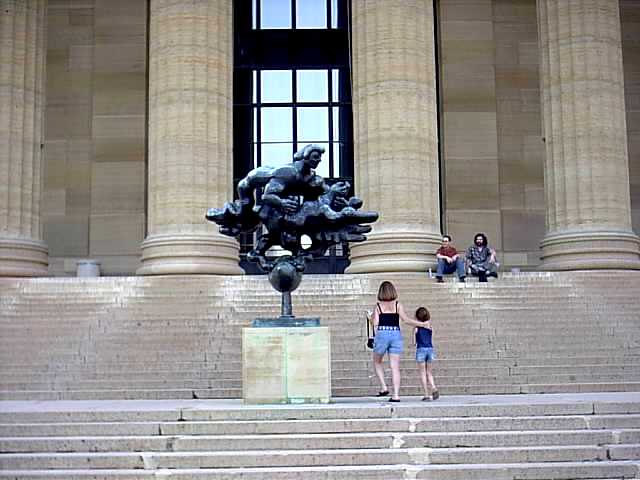 Is it Rocky Balboa? No, Britt and Melinda climbing those long steps of the museum entrance.
Can you hear the movie theme music?
---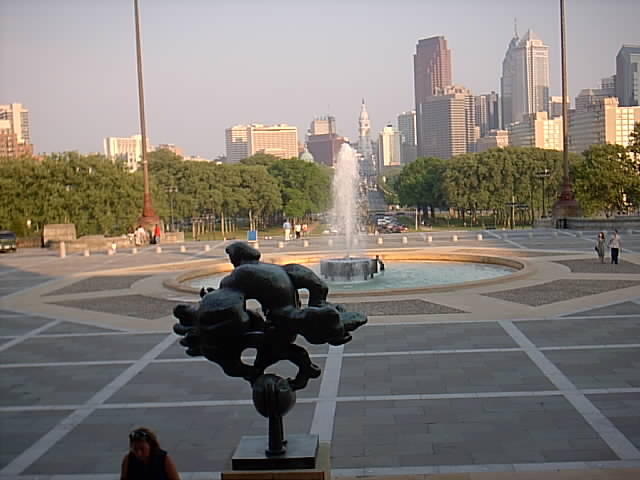 Another view looking past the museum's fountain at the downtown skyline.
---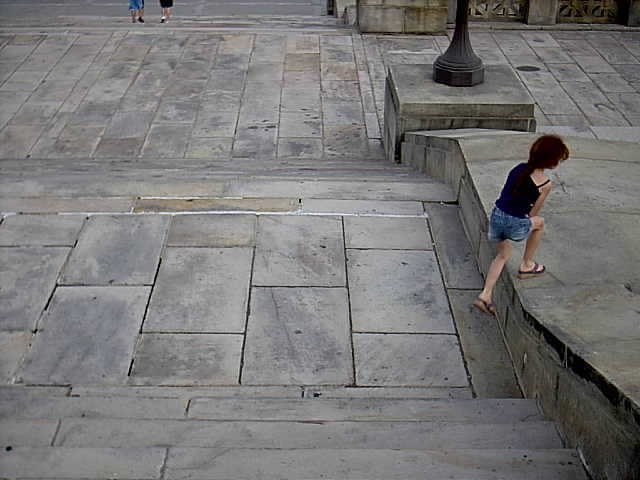 A view to show how the steps have intermittent wide stoops between steps.
---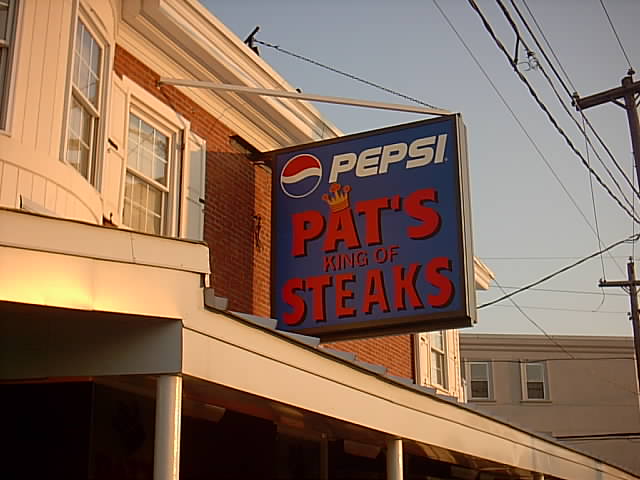 Arriving at "Pats", hungry for one those famous Philadelphia Cheese Steaks. It is located where 9th Street crosses Wharton Street and Passyunk Avenue.
---
As you can see, Pat's competition, Geno's is right across the street. Geno's was embroiled in some controversy recently with the "Order In English Only Sign". Philadelphia was going to pass an ordinance forbidding that type of sign.
---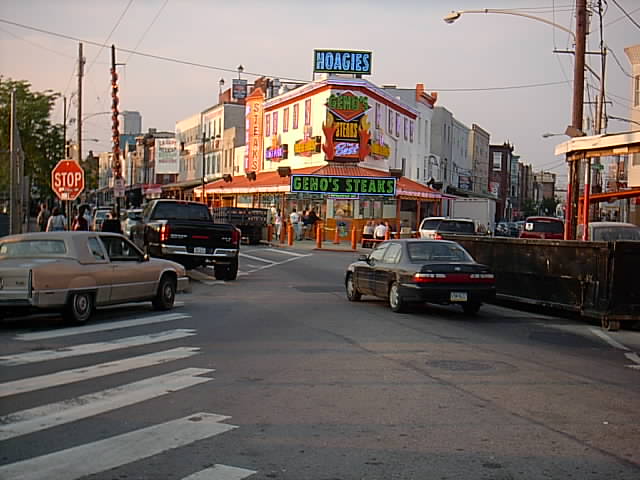 Just to left is the "Capitol Playground", where kids were playing basketball and got into a fight when we were at Pat's. The fight ended when an unmarked and marked stopped there as they were patrolling.
---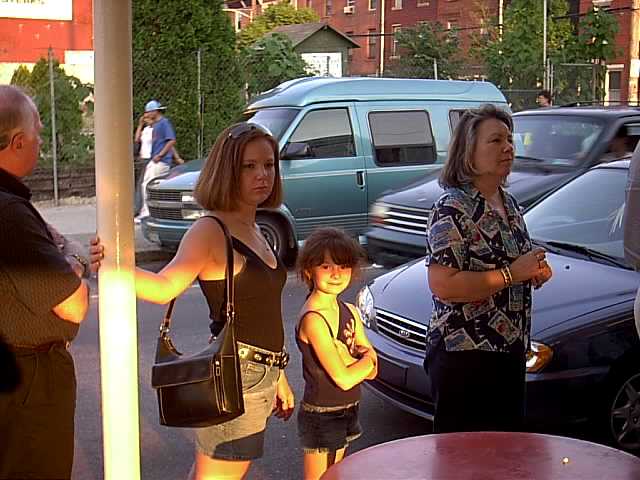 What to order? Checking out the menu and celebrity photos at "Pats".
---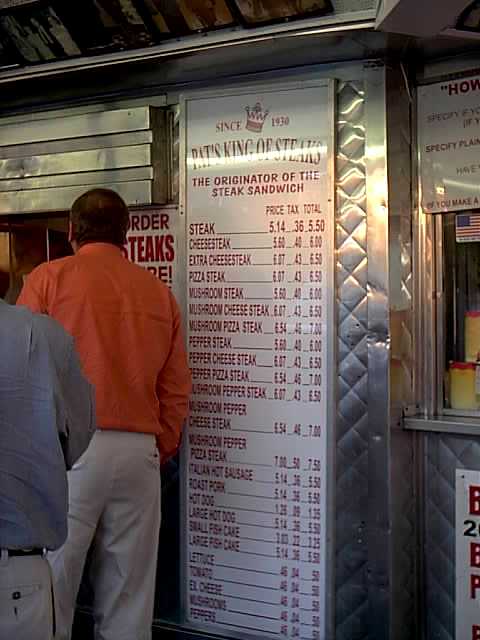 "Pat's Menu", which explains huge inventory of cases of gallon cans of "Cheese Whiz" in there.
---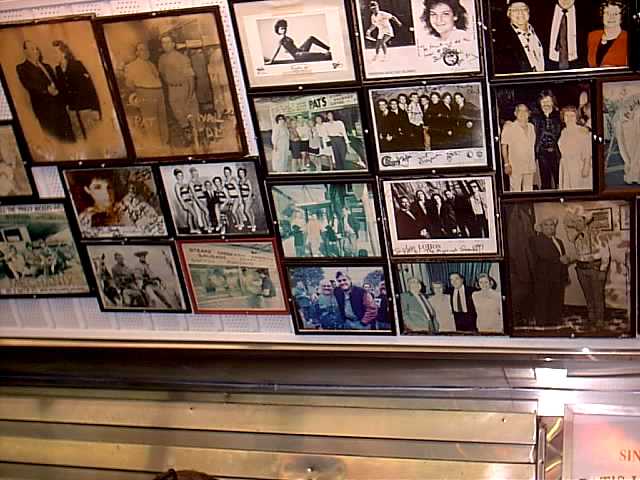 Jay Leno was here (center bottom), along with many, many other celebrities.
---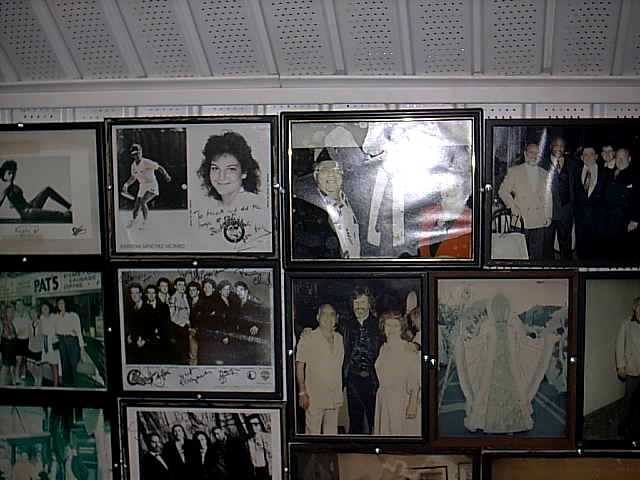 A place where celebrities have come to be immortalized in Philadelphia history.
---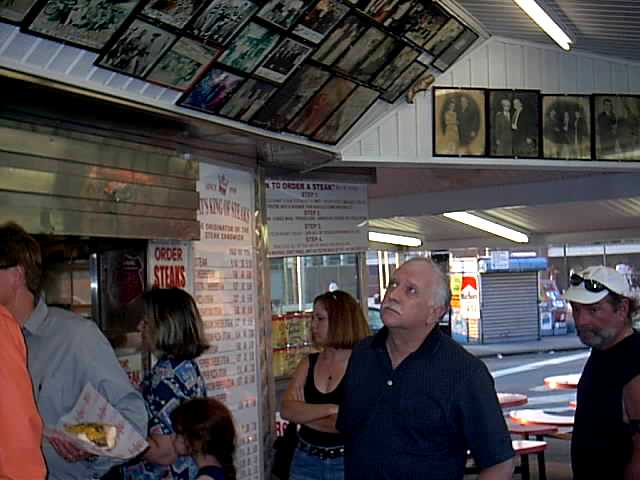 Lon checking out the photos while Diane orders.
---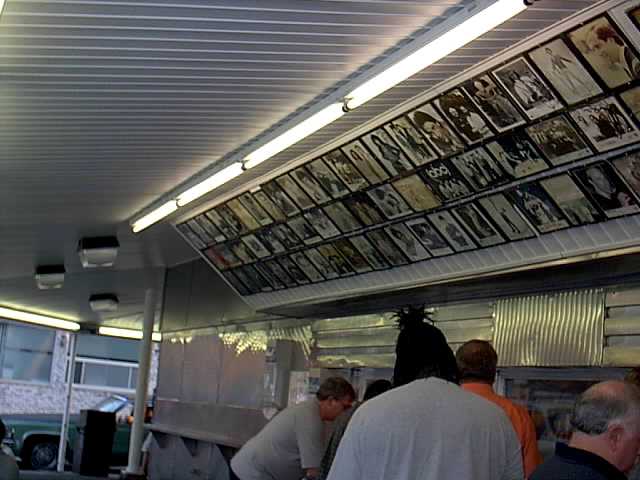 The celebrity photo collection is quite omnipresent.
---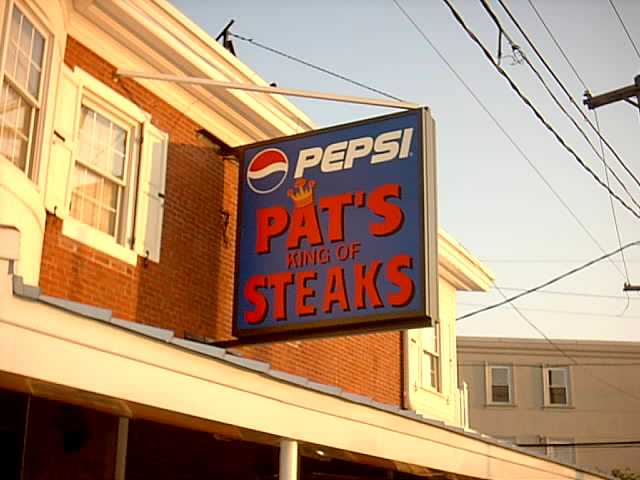 The building business sign. Pat's website address.
http://www.patskingofsteaks.com/
---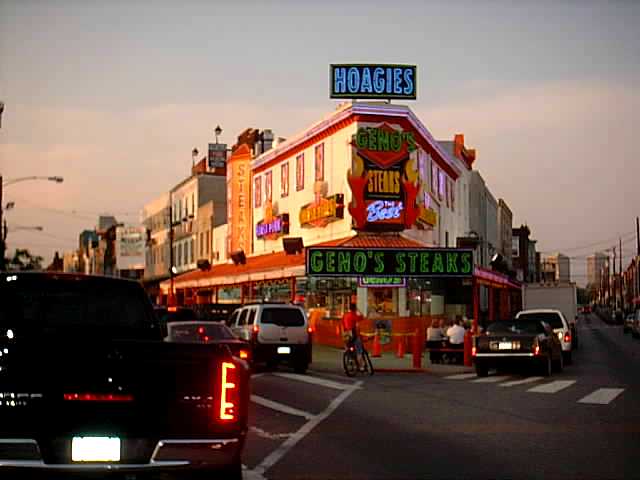 Across the street (9th and Passyunk Ave is "Geno's", also famous for the celebrity photos. Geno's has quite the impressive website, using the latest version of Macromedia's Flash movie website design software.
http://www.genosteaks.com/
---
Back To Philly 1 Back To Philly Itinerary Menu Next To Philly 3