---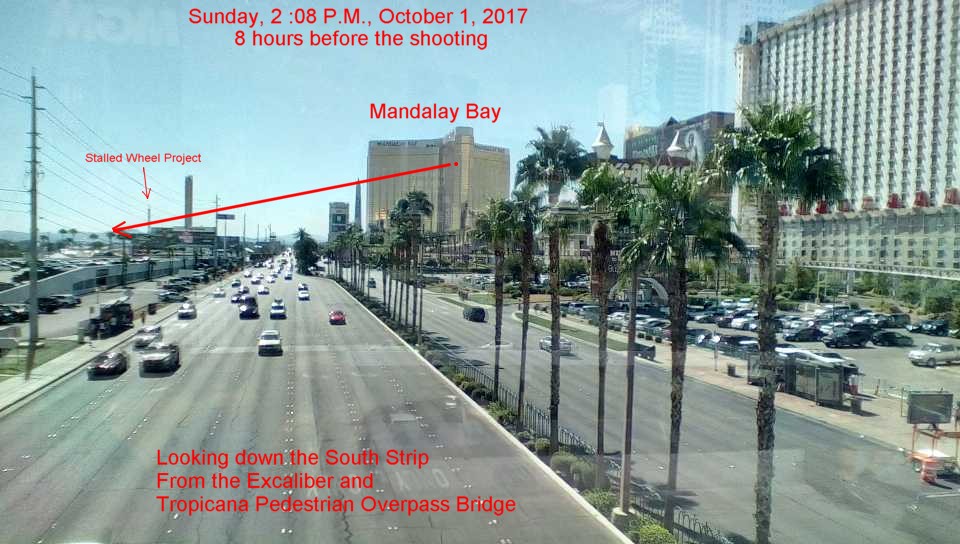 Sunday, October 1, 2017 - Looking South Excaliber/Tropicana Pedestrian Overpass.
Paddock, the shooter was in Room 135 on the 32nd floor. February 7, 2018, the Mandalay Bay high-rise tower floor numbers changed from 31 to 62 to 56 to 62. Floors 31, 32, 33 and 34 will became floors 56, 57, 58 and 59.
---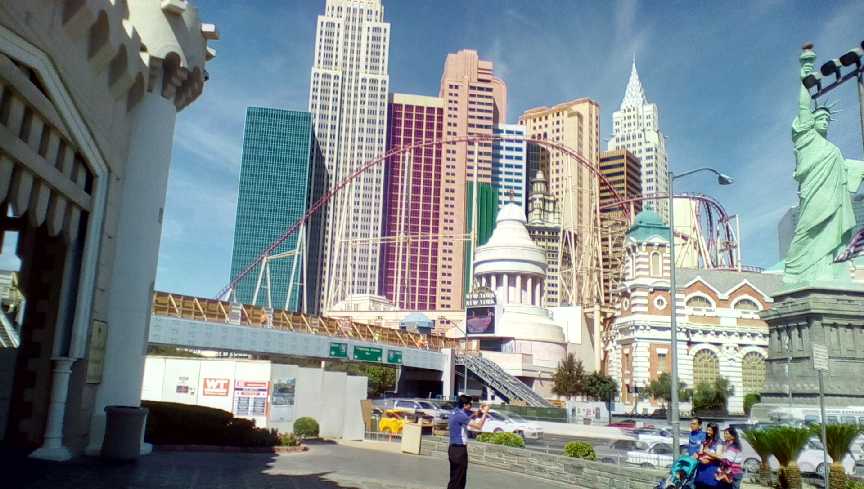 Sunday, October 1, 2017 - NY-NY to Excaliber Pedestrian overpass construction. The construction is expected to be completed sometime in December 2017.
---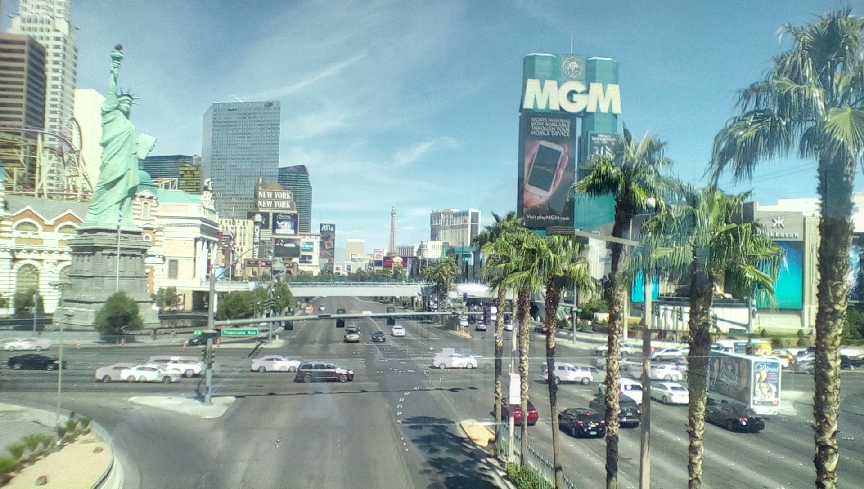 Sunday, October 1, 2017 - Looking North - Trump Tower etc.
---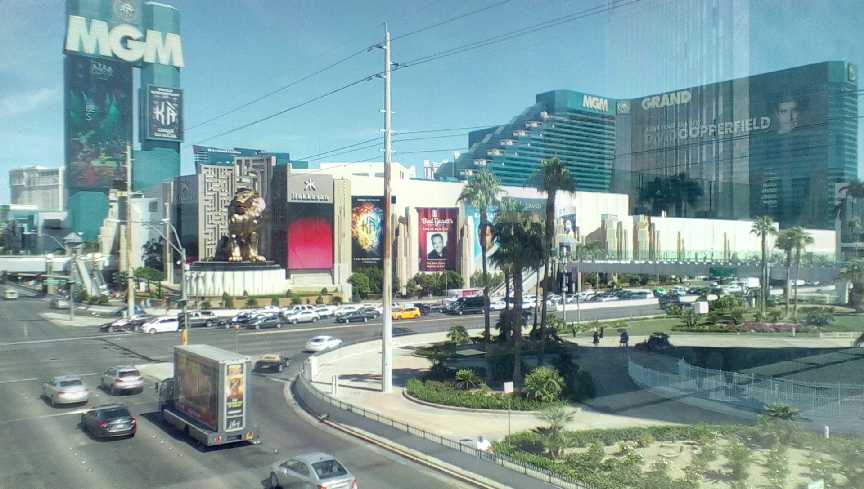 Sunday, October 1, 2017 - MGM Gold Lion.
---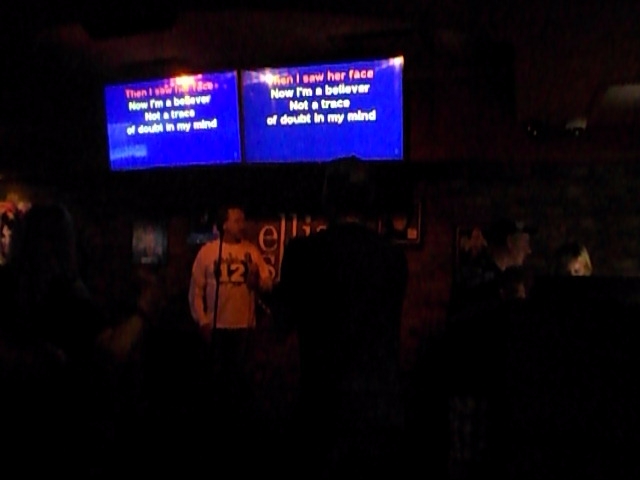 Sunday, October 1, 2017 - After taking in the comedy show at the Tropicana Laugh Factory, I walked east on Tropicana Ave to Koval, to the "Ellis Island Karaoke" - The shooting probably began about the same time this guy started singing, so I missed the onslaught of Route 91 Concert refuge seekers from the shooting running to the Tropicana by approximately 10 minutes. The front entrance of Ellis Island was under renovation construction. Shortly after this, I left and walked west on Flamingo Rd., crossing the Koval Ave. crosswalk. Seemed like a lot more of people than usual waiting on the other side for the "Walk Light". (This is the same intersection where the Rapper Tupac Shakur, f/k/a Lesane Parish Crooks was shot by a drive-by on September 7, 1996 at 11:05 p.m , later dying September 13, 1996) Crossed Koval, and that is when I noticed little vehicle traffic on Flamingo Rd. and people of all ages running toward me from Bally's. A convoy of 6 Henderson PD Squads, with blues lights & sirens blaring, racing past eastbound and then a minute later returning back westbound. There were North Las Vegas PD Squads, Unmarked and other out of jurisdiction squads, sirens with dash lights flashing, coming and going in all directions, (Bally's was formerly the MGM Grand, which was the site of Las Vegas' worse tragedy during a fire November 21, 1980, that killed 85 and injured 627 persons) At the Bally's Pedestrian elevators, I asked the Bally's Security Guy what is going on. He said, multiple shooters everywhere, take cover. I went up the escalator to the pedestrian overpass and encountered two very excited and intense cops, in tactical gear and with their assault weapons drawn, yelled at me to run and keep down. I went down the escalator and at the guarded Cromwell (formerly the Barbary coast) door entrance where I was let in the casino. The Strip was locked down and I couldn't leave until around 2:15 A.M. In the meantime, I used my Kindle to login into the Cromwell WI-FI, which had good bandwidth, and watched the Fox News Channel live coverage, by Adam Housley at Tropicana Ave., by the Mandalay Bay, who was in town covering the OJ Simpson release from prison. First reports were 2 dead, 24 injured. Not long after that he interviewed a paramedic from LA who was attending the concert. He said, the fatalities were much worse and numerous, that he had pronounced over 20 dead himself, and there were many more. Around 2:15 A.M. I was able to leave the Cromwell. The RTC buses were not operating, I walked back to Circus-Circus, in quite a cold brisk north-wind, and only saw a few other people walking on the Strip, and every cross-street intersection was being blocked by a squad, with a cop with his assault rifle, standing outside his squad door. I made it back to Circus-Circus and then TV channeled surfed, watching the live news coverage.
The next day, a TV interview with a Fire Dept. Lieutenant probably explained the reason why I had experienced those very tense and excited cops on the Bally's pedestrian overpass. The Fire Lt. said -- dispatch was receiving numerous calls with limited information, which led to the confusion about the multiple shooters reports, at several locations. One example he gave was that -- an injured shooting victim made his way back to Caesars' and someone called in, "a person shot at Caesars' and needs EMS." The Cromwell is only a pedestrian overpass across from Caesars' Palace.
I am very cognizant of all the risks while visiting Vegas. There are many past incidents of fatalities from vehicles jumping curbs onto the sidewalks, killing pedestrians, sadly it's quite common for Vegas. Just the night before the shooting massacre, three Vegas young boys, ages 12-14 were killed at 9:07 p.m. at the intersection of East Desert Inn Rd. and Nellis Blvd., in a hit and run car jumping sidewalk killing pedestrian tragedy. I also remember the Friday, February 22, 2013 at 12:37AM PT, when the Rapper Kenny Clutch, f/k/a Kenneth Cherry Jr., who was killed in a drive-by shooting that subsequently caused a fatal fiery car-taxi crash at this same intersection, the Strip and Flamingo Rd.
On December 20, 2015 at 6:40 p.m PT, Lakeisha N. Holloway, 24, driving northbound on the Strip, accelerated while swerving right onto the sidewalk in front of Planet Hollywood, mowing down and killing Jessica Valenzuela, 32, of Buckeye, Arizona and injuring 34 others in the crosswalk area in front of Paris Las Vegas, before striking a light pole and continuing by Ballys, then eastbound on a flat tire to Tuscanys, east of Koval on Flamingo Road.
On October 17, 2017 construction began on the Mirage sidewalks to install 700 steel pole "bollards." This should provide a protection barrier for the pedestrian safety. These "bollards" are designed to withstand a typical vehicle crash traveling 55 mph.
---
On November 3, 2017 - Clark County Fire Department releases a compliation of the Radio Dispatch Center's radio traffic on the "MCI" Mass Casualty Incident. The audio runs almost 3 hours. It is a compilation of most of the Fire Dispatch and numerous Tactical Channels that were assigned handling the incident. Most of these conversations were occuring simultaneously, this Youtube audio compilation of all the channels - doesn't display the actual time date stamp for each radio key-up.
This tape begins with Fire Engine #11 advising about a large crowd running from the Route 91 Harvest fest, Inquiring about reports of possible gun fire. Then Engine #11 advises the need for several units (Auto Time 22:07:13) Dispatch then started receiving multiple "GSW calls" Gun shot Wounds. Engine #11 requests MCI units, staging at Tropicana and Koval.
Reports coming of shooters at McCarran and several hotels.
Near the end of the recording at 02:57:27 Pulse Point Fire Alarm "Strobes going off at Mandalay Bay." At 02:58:01 Reports of Explosions on the 34th floor of Mandalay Bay, with 32nd, 33rd & 34th floor on fire. Obviously would have been the SWAT Team breech into the room.
---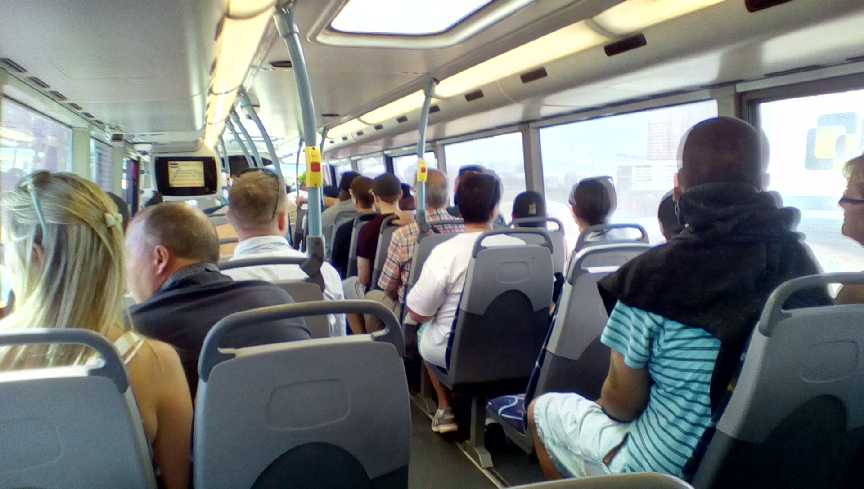 Sunday, October 1, 2017 - Riding the Deuce south
---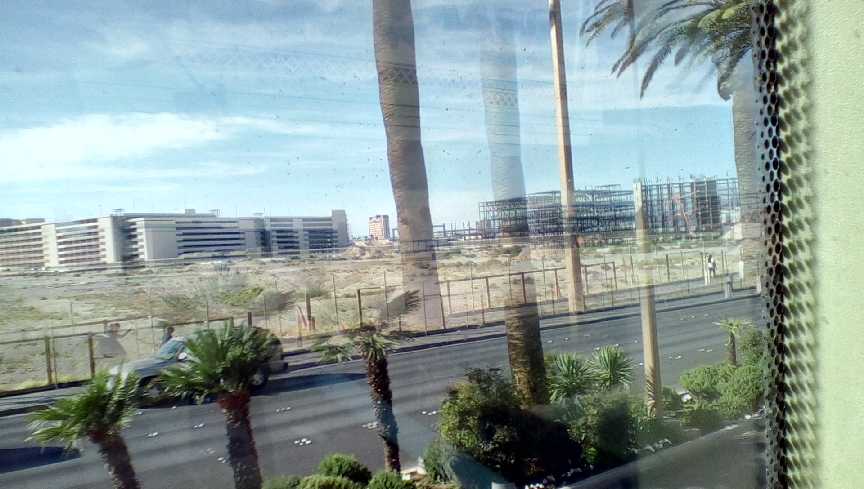 Sunday, October 1, 2017 - Since the Stardust implosion of March 13, 2007, the original Sam Boyd Gaming Echelon Place project stalled construction site for the planned Shangri-La Hotel, Delano Hotel, Mondrian Hotel, and Echelon Tower was taken over by Resorts World Las Vegas. After many delays, the still to be Asian themed 3000 room complex is now expected to open in 2020. Like the Riviera implosions of June 14th and August 16th 2016 it is to accommodate the expansion and development of the expected business surrounding the Las Vegas Global Business District, which is part of the Las Vegas Visitor Bureau and Convention Center Complex.
---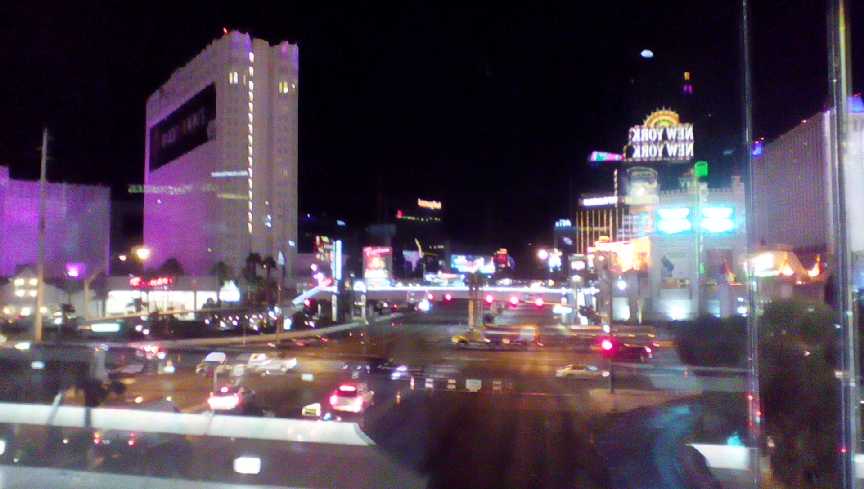 Tuesday, October 3, 2017 - MGM Pedestrian Overpass walk - The Excaliber/Tropicana walk south still a crime scene. Walked the MGM to Pedestrian Overpass to the Tropicana Bus stop to catch the WAX Bus to the Airport Terminal 3.
---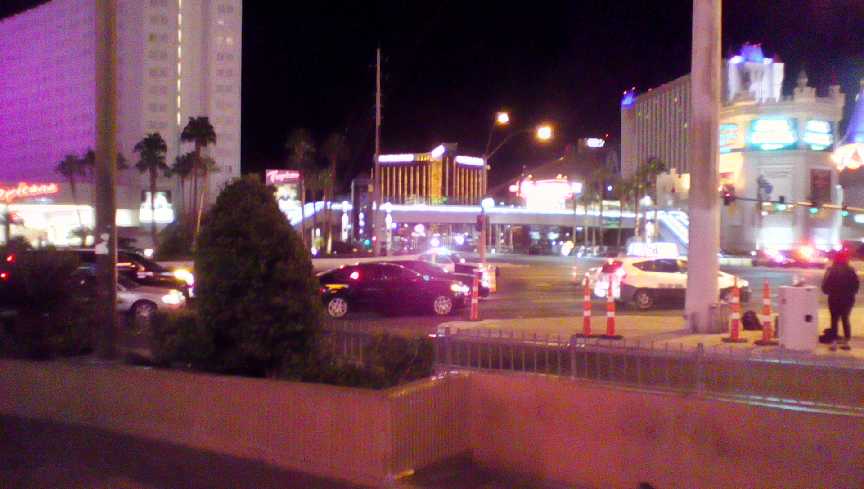 Tuesday, October 3, 2017 - NY-NY & MGM pedestrian overpass crossing, looking south towards the crime scene

c
---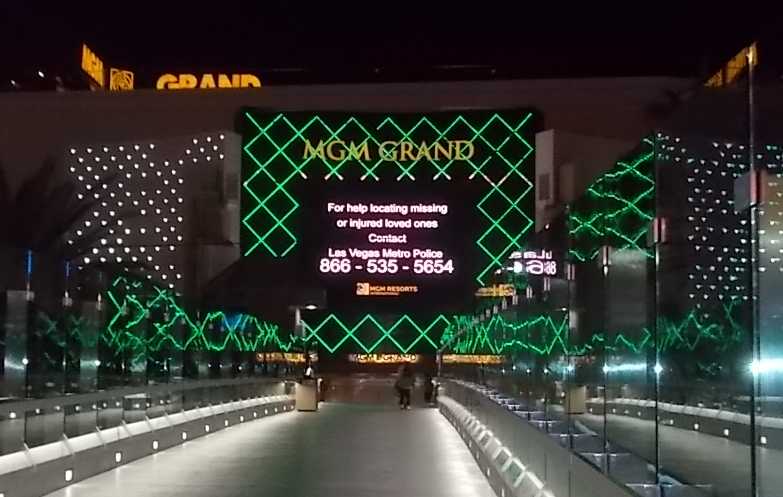 Tuesday, October 3, 2017 - MGM Pedestrian Overpass walk - The Excaliber/Tropicana walk south still a crime scene. Walked the MGM to Pedestrian Overpass to the Tropicana Bus stop to catch the WAX Bus to the Airport Terminal 3.
---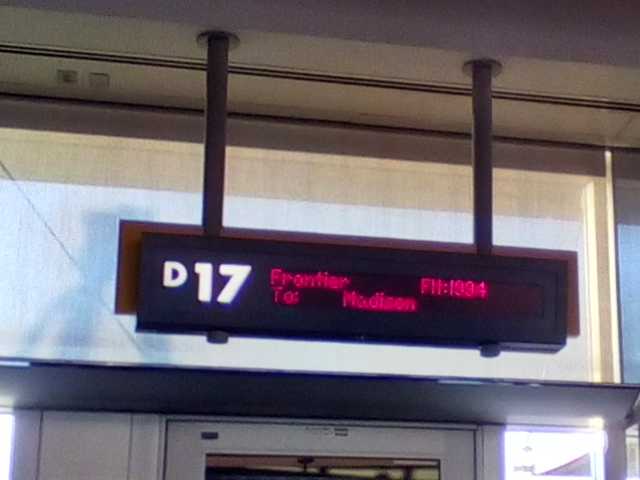 Tuesday, October 3, 2017 - Frontier Flight 1994 - LAS Terminal 3 - Gate D17.
---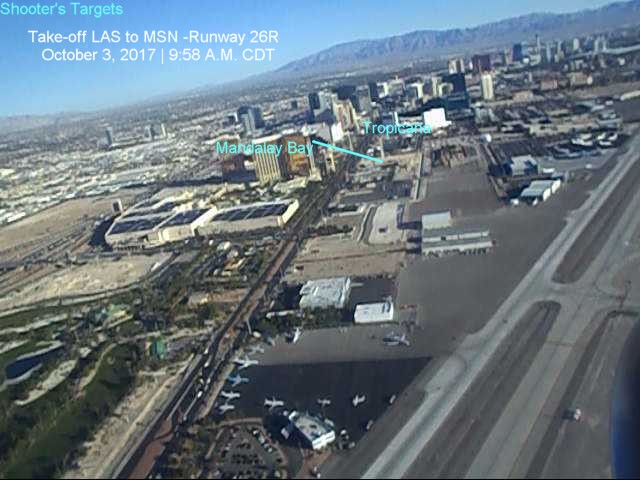 Tuesday, October 3, 2017 - Frontier Flight 1994 - Take-Off Runway 26R - View of Route 91 Harvest Fest Massacre Site.
---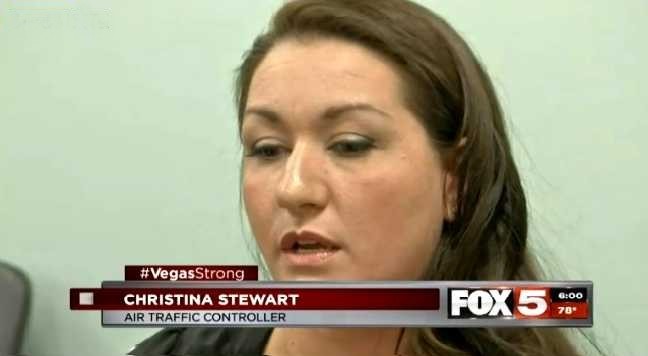 Wednesday, October 12, 2017 - Las Vegas 6 P.M. News - KVUU Fox 5 Interview with Christina Stewart, who is a (ATC) Air Traffic Controller, and was attending the Route 91 Harvest Festival Concert. She took cover behind a concrete wall during the shooting and immediately called McCarran Tower to tell them about the active shooter and told them to stop the helicopters (Maverick tours) and activity on the 19's (Runways 19L & Runway 19R) and departures on Runway 26R. She then went straight-in to work and assisted with diverting some 85 flights, and assisted in alleviating the back-up, which affected the schedules of over 225 flights. As you can tell by the previous picture of my departure on October 3rd, aircraft departing Runway 26R. and the Maverick Helicopter tours would have been easily been in the crosshairs of the shooter.
---
Las Vegas TV Stations Streaming Live News Broadcasts
---
KSNV-TV NBC Studio Location, 1500 Foremaster Lane Las Vegas, NV 89101
---
KVVU-TV FOX Studio Location, 25 TV5 Dr. Henderson, NV 89014
---
KLAS-TV CBS Studio Location, 3228 Channel 8 Drive Las Vegas, Nevada 89109
---
KTNV-TV ABC Studio Location, 3355 S. Valley View Blvd. Las Vegas, NV 89102
---
Las Vegas Review-Journal Newspaper

Review-Journal Location, 1111 W. Bonanza Road Las Vegas, NV 89125
---
2275 Corporate Circle, Suite 300 Henderson, NV 89074
---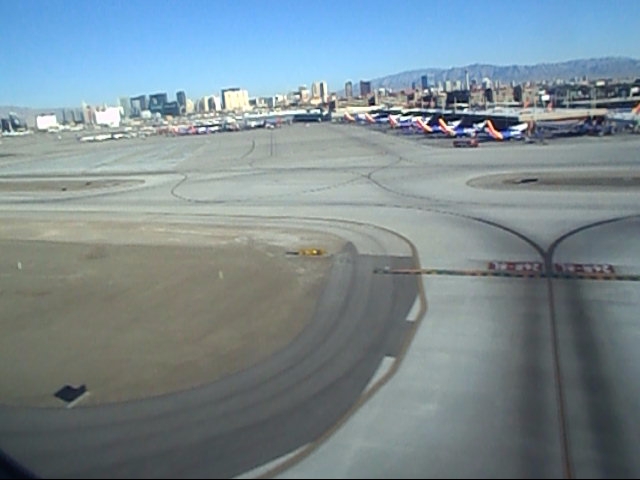 Tuesday, October 3, 2017 - Take-Off - Wheels up - Runway 26R.
---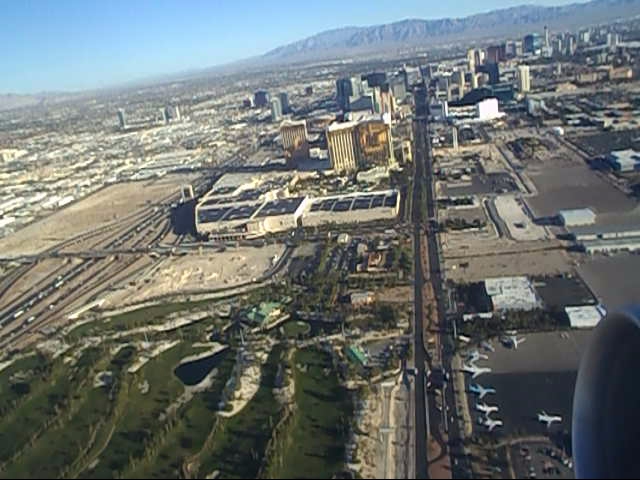 Take-Off - Abeam the Strip - Can see the Mandalay Bay, Delano and the Concert Shooting Site - Targeted White Fuel Tanks.
You also can see the site of the future Las Vegas Raiders Stadium. November 13, 2017 is the scheduled offical groundbreaking for the 63-acre site to construct a 65,000 seat domed stadium in the southwest shadows of Mandalay Bay, which is located just west of I-15 north of Russell Road and south Hacienda Avenue and between Dean Martin Drive and Polaris Avenue. It is planned to be completed July 31, 2020 in time for the NFL season. The NFL offically approved the Raiders move on March 27, 2017. The Raiders will play the 2017 and 2018 season Oakland–Alameda County Coliseum. The 2019 season will be played at Sam Boyd Stadium.
---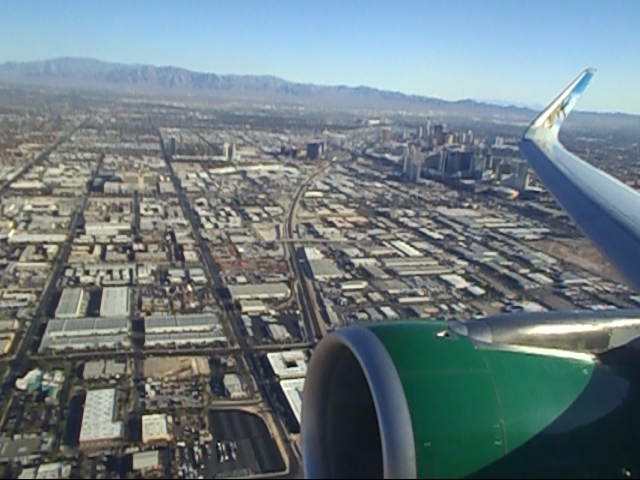 Climbout West - before climbing 270 degree left turn to head northeast.
---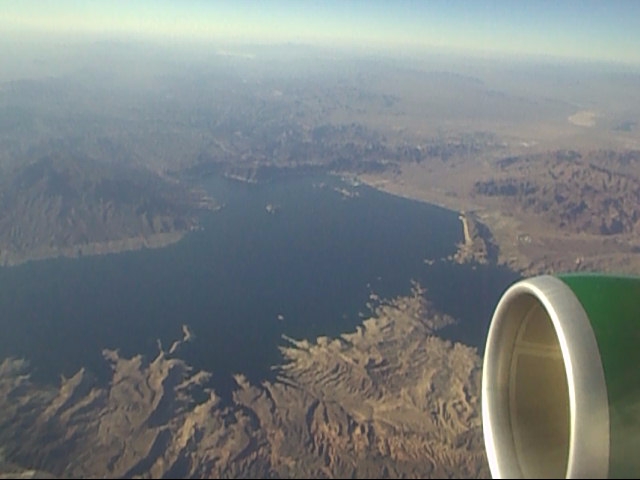 Climbing Northeast - Lake Mead and Can see the Hoover Dam - Took a similar view 4 days earlier from the Cessna 172.
---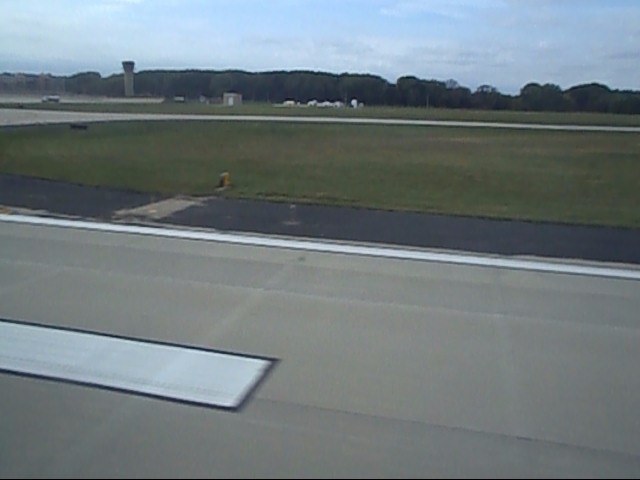 Landing Madison Runway 18.
---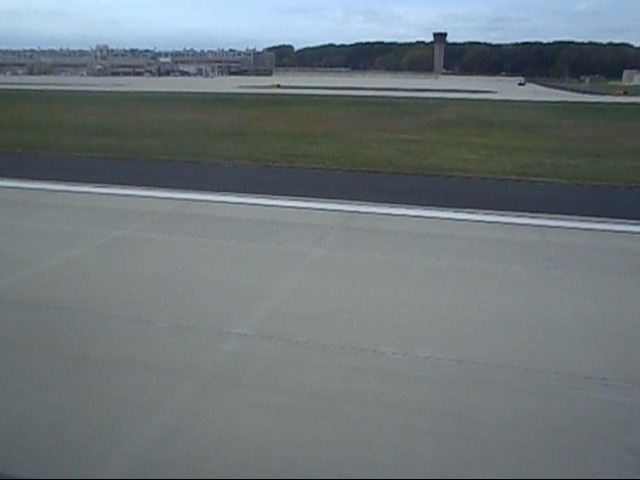 Landing Threshold - Madison Runway 18.
---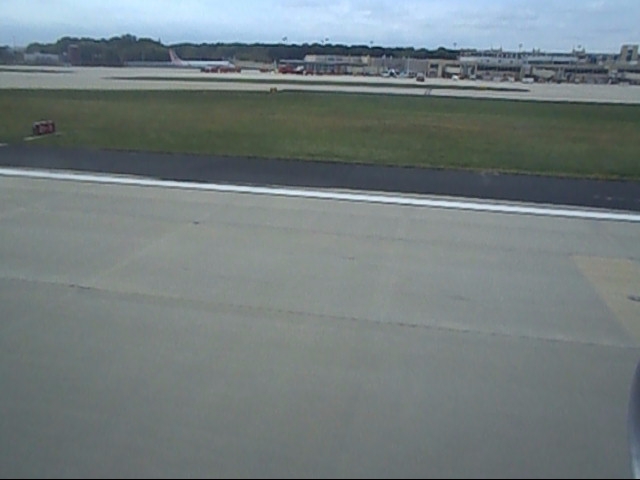 Ground Roll - Madison Runway 18.
---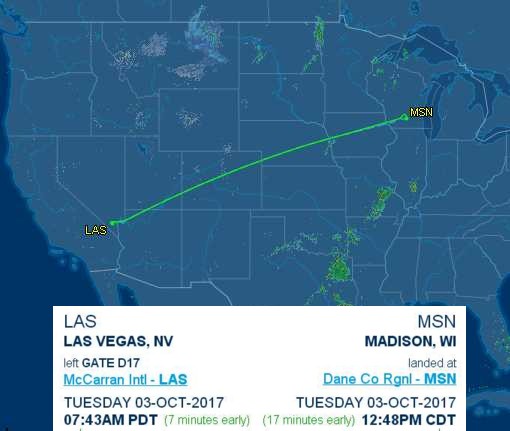 Tuesday, October 3, 2017 - Frontier Flight 1994 - Seat 5F.
---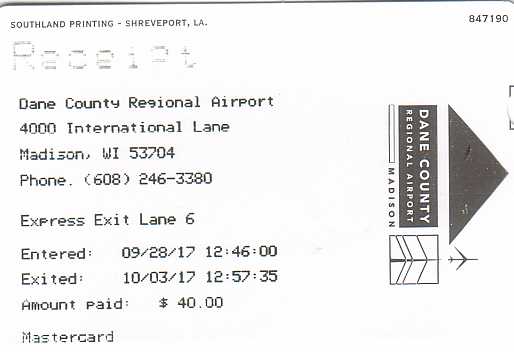 Found a convenient parking spot at the surface lot, adjacent to the Ramp in "I" Row, for a very short walk to and from the terminal.
---
Back To Vegas Last Back To Vegas Itinerary Menu &nbsp Next To Vegas 1